The Hancock-Henderson Quill, Inc.

---
Meet Your Neighbor
by Jenna Clayton Quill Reporter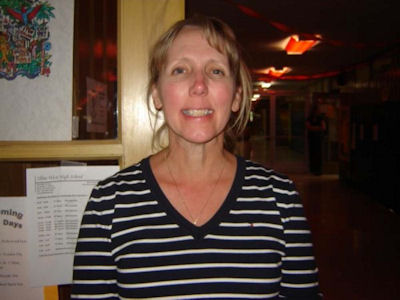 Meet your neighbor Connie Flesner. She was born in Carthage at Memorial Hospital and lived in Carthage until she was a sophomore in High School and then we moved south of town onto a farm. She is the daughter of Eileen Logan and the late Ralph Logan.
Flesner's parents were both blue-collar workers. Her father owned Ralph's Deep Rock and later co-owned J&R Tire Service.
Her mother owned a beauty shop and then worked for the Carthage Schools as a Carthage Elementary Secretary and a bus driver before she retired.
Flesner's parents always expected the best from her and her sister, Lynnette. Flesner explains that her parents, "instilled morals and a strong faith.
We had an excellent home life, although as all young people I often thought they were strict. As a parent and grandparent now, I really appreciate all they did and sacrificed for us." She graduated from Carthage High School in 1977 and from Augustana College in 1981
Flesner is now married to Kent Flesner. They have two children, Amy and Brian and one grandchild, Mira. Flesner is currently the Science Teacher for Illini West High School. She teaches Anatomy and Physiology, Biology II and Earth/Physical Science to students. She is the Co-sponsor of the Illini West Student counsel and belongs to the Illinois Science Teachers Association and is also a member of Trinity Lutheran Church in Carthage. She previously worked for Good Apple in Carthage and taught at Carl Sandburg College various times during the last thirty years.
She loves going dancing with her husband in her spare time but keeps very busy with teaching and with her husband farming. And her new favorite pastime is taking care of and spending time with her twenty-month old granddaughter.
Flesner's most memorable moments are meeting her husband during the country's bicentennial celebration July 4, 1976, in Basco,, her children's births, her daughter's wedding, and the birth of her granddaughter, also she will never forget traveling to South America when she was in college and seeing the Amazon River and leaving Bogota while the
She has high standards for herself as well as her students and tries her hardest to prepare students for their college careers. She agrees with her husband's quote about life, "Work hard, then play hard."
---