The Hancock-Henderson Quill, Inc.

---
Final Homecoming For W.C. Seniors, Ready For A Heat Victory
The Seniors on West Central's varsity fooball squad are fed up with sacking their opponents, yet coming home with a loss each week.
Their arms are crossed for a reason, and they are determined and ready to meet the Galva Wildcats Friday night and rack up a win for the Heat and a WEST CENTRAL HOMECOMING celebration.
West Central's Senior groups have been small the last couple of years, making it hard to have the experience and the depth needed to improve the odds for a victory, but Dalton Johnson, RB/DB, Mike Lewis OL/DB, Jesse Sams OL/DL, Logan Brueck OL/DL, and Cody Arthur OL/DL along with seniors Mark Mynatt RB/DL and Ryan Mowder RB/LB will be running and hitting and blocking with a fire only "HEAT" can produce. They are inviting the public to come celebrate their final Homecoming at West Central.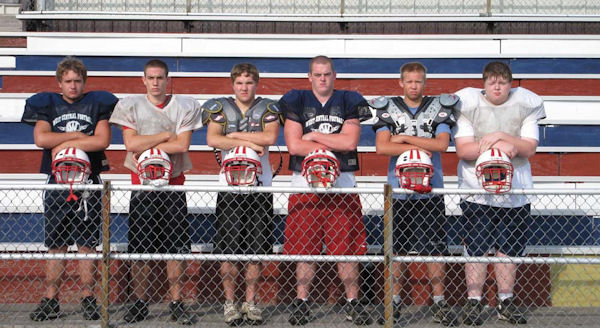 West Central Heat Seniors: Mike Lewis, Dalton Johnson, Tyler Link, Jesse Sams, Logan Brueck, and Cody Arthur.(Mark Mynatt, Ryan Mowder-absent)
---