The Hancock-Henderson Quill, Inc.

---
Eating Pie Helps Send Veterans To Washington DC
By: Shirley Linder, Quill Editor
It doesn't get any better than to be able to eat homemade pie, visit with friends and neighbors and honor our World War II veterans all at the same time.
Wednesday, September 9th that is just what many did as the Stronghurst American Legion Post #765 and the Auxiliary Unit #765 served pie and beverages from 9:00 a.m. until 1:00 p.m. to raise funds for an "Honor Flight" to Washington DC for World War II veterans. At present there are 3 Henderson County World War II Veterans signed up to take the trip.
The West Central National Honor Society expressed their appreciation for the freedom they have today by donating $200 at the event. This was chosen as one of their community service projects for the year, to recognize "the Greatest Generation."
National Honor Society President Erin Bavery presented the check to American Legion Member Ralph Tatge, a World War II veteran. Joining Erin were Vice President Justine Dillard; Secretary Shelby Crawford and Treasurer Kendra Kelly, along with their advisor, Alta Mae Brokaw.
Staff of Oak Lane Nursing Home & Rehab, as well as the Oak Wood Estates Retirement Home honored the veterans living at their home by each presenting a $50 check toward the flight.
There are three World War II veterans who reside at Oak Lane Nursing & Rehab. They are Roy Dreveland, Grace Crow and Verna Gibb.
During this worthy event $1500 was raised to help with an Honor Flight for more World War II veterans to enjoy.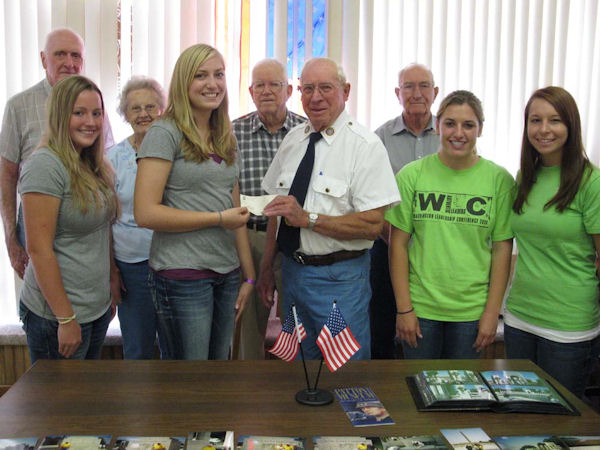 Back row l-r:
Curt Eisenmayer, Verna Gibb, John Allaman, Raymond West. Front row: Justine Dillard, Erin Bavery, Ralph Tatge, Kendra Kelly and Shelby Crawford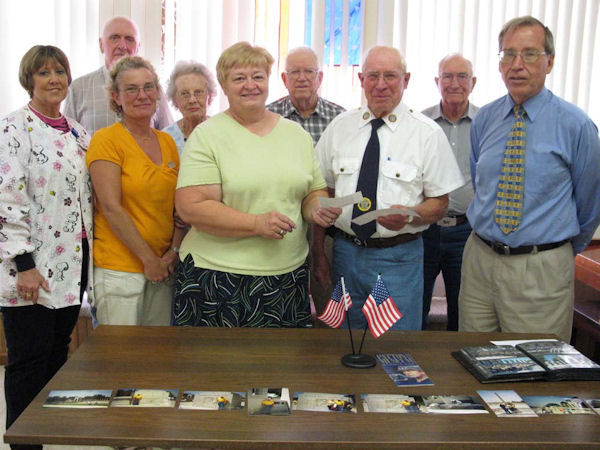 Back row l-r: Curt Eisenmayer, Lower right l-r: Verna Gibb, John Allaman, Raymond West.
Front row: Irene Francis, Bobbi Tapscott, Jennifer Schaley, Ralph Tatge and Richard Clifton
---