The Hancock-Henderson Quill, Inc.

---
Meet Your Neighbor
by Susan Galbraith, Quill Reporter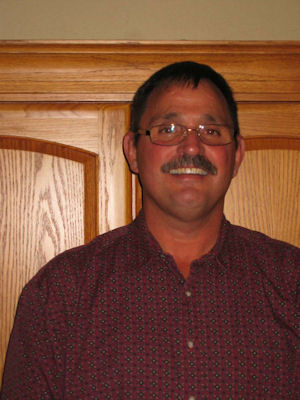 Meet Your Neighbor Darrell Lathrop.
Darrell and his wife, Barbie, live at rural Oquawka.
He has been employed by the Burlington Northern Santa Fe (BNSF) Railroad for 35 years.
He was born and raised in the Monmouth area and graduated from Monmouth High School in 1970.
Darrell was in the US Marine Corp, stationed at Camp Pendleton, in California from 1971 to 1973.
In 1974, he married his sweetheart Barbie Bailey. The couple celebrated their 35th anniversary this year.
They have two children, Michele (Chad) Hallgren of Burlington, Iowa and Michael (Tania) Lathrop of La Mesa, California.
Michele and Chad have a beautiful 14 month year old baby daughter, Claudia Lyn, and Michael and Tania are the proud parents of Moira, (4 1/2) and Everett, (2 years).
Michele works part-time at "The Buckle" but loves being a stay at home mom, and Chad is employed at Hallgren Heating and Air Conditioning.
Michael is employed at Honeycutt Construction and Tania is also a stay at home mom.
Darrell enjoys cooking, billiards, walking, swimming, visiting with family, and spending time with his beloved black lab Baylor. But most important to him, is the time he spends with his wife Barbie.
Darrell's parents are Fred Lathrop and Rose Clawson, both deceased.
Darrell has four sisters, Peggy, Sharon, Judy, Cheryl (Darrell and Cheryl are twins) and five brothers, Leroy, Larry, Joe, Danny and Terry. One sister, Rosella Liggett is deceased.
As a couple, they enjoy daily walks. Last year they walked 6 miles at Harmony Bible Church to help purchase water purifiers for other countries so children and adults there could have safe drinking water.
He and Barbie travel to California about 3 times each year to visit their children and grandchildren.
An experience Darrell will never forget was after Michael had graduated from boot camp in San Diego, they left to vacation in Cancun.
While in Cancun, Michael and Tania announced they would make Darrell and Barbie grandparents. It was the highlight of their trip!
---