The Hancock-Henderson Quill, Inc.

---
34 Raceway Surprise Ending In Sprint Championship
by Dessa Rodeffer, Quill Owner/Publisher
Gladstone- It's not over until its over, but Saturday night at 34 Raceway, West Burlington, Iowa, chances of a championship win seemed pretty slim for Kevin Hetrick who had been second in the points race just three races earlier until his car suffered from a blown motor and other issues, two weeks in a row. The incidents moved him into third place in the 34 Raceway Points race while still leading in feature wins (4).
Kevin, whose brother Brian earned Season Points Champion in 2008, a week before he died in a motorcycle accident, was chasing the dream of having a back to back Hetrick Points championship, and it was within his grasp.
Kevin had been only three points away from his friend Jayson Ditsworth, also of Gladstone, who often stopped by his shop as Hetrick's pit crew and his father Jim Hetrick were busy working on Kevin's #23 Sprint to make it all it can be within the legal limits of 305 Sprint racing rules.
The news story-"Gladstone Friends, Top Contenders In 34 Points Race"-was to be published two weeks ago, about the 3-point contest of Ditsworth and Hetrick after they were chatting one night in Hetrick's garage the night before the August 8th race.
The entertaining and energetic Ditsworth was telling stories and Kevin was enjoying his lively style while focusing on the work of installing a newly rebuilt motor with his expert pit crew Ryan Anderson, Brian Collier, and Shane Johnson after blowing out a motor in the last race at 34 Raceway.
The two friends, Jayson and Kevin, both put on their Brian Hetrick T-shirts to promote Kevin's brother and their mutual hero in sprint car driving in the upcoming Brian Hetrick Annual Tribute at 34 Raceway August 22nd.
Hetrick and Ditsworth were jabbing at each other as they raced the 15th and would not race again until the championship August 29th
Both looked at each other and wished the other good luck. "I'd like to see Kevin win, but I'm not giving it to him," said Jayson. "I'm racing to win!"
"Why do I do it? Well, there really isn't anything else to do in Illinois," he laughed. Then he added, "Racing brings friendship, and clearly, respect for each other and the other's position. A couple years ago it was not close and this is a lot more fun. We'll see how it turns out. Success is a good team, owner, pit crew-driver, and it's a lot of fun."
Ditsworth said he didn't feel sorry for Kevin when he broke down on the track and he pulled out the win the week prior.
"He's done it to me."
"Three weeks earlier I was in the lead with 1 or 2 laps to go. After a restart of a yellow caution, Kevin passed me to win and we only had a point difference.
"Then, I lost 15 points the night of a crash. I was passing Kevin for the lead and a car spun in front of me and we tangled up and I got out of my car (something you're not allowed) and I was sent to the pits," Jayson said.
Then Jayson said. "Last week I gained one point in my Heat and lost 2 in the Feature race. It was almost the same as several weeks ago after 10 or 15 laps and a yellow flag came out with a lap or 2 to go."
It came back green and Jayson in his #1, came around and passed Kevin in his #23 and in for the finish.
"It's only right for me to win the numerical race since I'm #1 and he's #2-3," he laughed. "It's really been a lot of fun this year. I've been racing six years with Sprints and won the points race in 2002 in the Hobby Stock, and again in 2007 in the Sprints, then Brian Hetrick won it in 2008."
As they visited that evening, Jayson said that Brian had been way out front of other competitors in each of their races, but this year, he and Kevin were only a few points apart and both were over 13 points out from their next contender.
Saturday, August 8th, however, changed all of that. A rod broke in #23 and Kevin was pushed into third position in points, but he still lead in feature wins.
The 305 Sprints didn't race at 34 on the 15th or the 22nd, Brian Hetrick's Tribute night when the larger Sprint Invaders raced. So, Jayson and Kevin went to the championship in the top three with the points standing as:
1st: 426 points
Jayson Ditsworth #1, Gladstone
Olson Bros. Custom Shop, Burlington, IA, owner (3 Feature Wins)
2nd: 413 points
Matt Krieger #27, Burlington, IA
Roger Grant, Rosev. owner (1 Feature Win)
3rd: 410 points
Kevin Hetrick #23, Gladstone
Hetrick owner (4 Feature Wins)
You could never tell in the pit area that Kevin and his pit crew were ever going for anything else but to win it all no matter what happened.
It was pretty impressive to watch the focus and the work going on in Hetrick's garage and in the pit area, and you realize what it takes to get to the top - money from supportive sponsors, a pit crew that worked fast, smart, skillfully, and together, and a driver that is sharp and alert with a desire to be none other than first.
Saturday night at 34, things were not going that well in the Heat race for Hetrick. Oil was leaking from a hose that covered Kevin's car and his shoes and legs of his fireproof suit, and flames were underneath his car, but still, he came into the pits smoking, but still rolling, taking second place in his Heat.
It was looking as though Kevin should be feeling down and out after this mess, and the breakdowns in the last couple of races, but this "most improved" sprint car driver of # 23 was not finished yet.
They had around 45 or so minutes before the Championship race, and things began flyin' in the pits.
Lots of water, rags, palmolive dish soap, Goo, baby wipes, shop rags, and you name it, there was a lot of oil covering Kevin and his number 23 Sprint to remove.
Jim pulled the fuel injection out to clean the oil from it and said, " The gasket didn't hold. It was my fault."
They would fix the problem and hope it holds.
Other race drivers and their friends offered help in various ways as the car was disassembled and cleaned and the problem fixed and the tires and pressure checked.
With five minutes to spare, the top and all the sides were cleaned, reassembled, and Kevin had his shoes and helmet and pant legs cleaned off as well as he could.
He crawled back into his #23 ready to be pushed into the Championship Race formation-he would be third which is according to point standings in this race.
His friends were praying that nothing would break down and he would run a strong race, and hopefully he would win, but they all knew every top driver had that same focus. This was the championship and Kevin was 16 points shy.
Kevin, with the bad breaks now behind him, was focusing on winning the feature.
He said it is so different to be driving a race car when you know its the best. Ron Gustaf of Moline built the new motor that they put in Friday and Saturday.
"Even when breaks happen, you can go out with confidence when you have such a great pit crew," Kevin said. "I just can't say enough about these guys."
After the introductions to the fans of all the Sprint drivers, and a group photo was taken, the competitors were ready to start the Season Championship feature,
Kevin rounds the track in third place behind Ditsworth and Matt Krieger knowing he would have to take advantage of every turn. Ditsworth was out front to throw him dirt the entire 20 laps, and it was Krieger's chance at the title.
Krieger wanted to give owner Roger Grant, the win as Grant is retiring the car.
The green flag is waived and the 18 cars are off.
Early in the first couple of laps Kevin pulled around Krieger in the turn and moved into second place but Jayson Ditsworth, who had no one to contend with, had gained a strong lead and as the race continued with a few yellow flags, it seemed to fans that Jayson was sure to cross the finish line ahead of Kevin if things continued.
Eight laps completed and the unexpected happened.
Ditsworth's #1 lost power and rolled to a stop along turn number one, and the yellow flag cautioned drivers as drivers and fans watched.
Would he continue the race? Jayson's #1 was pushed to the pits with a broken crankshaft. Now Ditsworth could only watch from the sidelines the fate of the season championship for him and for his friend Kevin. The points were so close, it was hard to tell at this point who would win.
After the oil incident, and breakdowns, and the strong drive that was pushing Kevin around that track, fans were wondering if Kevin could finish the race without a hitch.
Matt Krieger was pushing him in every turn in the last eight laps then Kevin would pull away in the stretch.
But with the wings of brother Brian's #35 decal in front of him, Kevin sailed around each turn and across the finish line with fans and his friend Jayson cheering with excitement.
The two friends and sprint car drivers from Gladstone both end up as winners at 34 Raceway, Kevin winning the Feature Championship race and his friend Jayson snatching the season's point race away from him by one point.
If Kevin had won first place in his Heat, or if someone had passed second place Matt Krieger, Kevin would have seen his dream come true. He would have tied with Jayson in points and proclaimed the points winner because he held one more feature win than his friend.
They both were smiling - It was a great race, and a great season at 34 Raceway!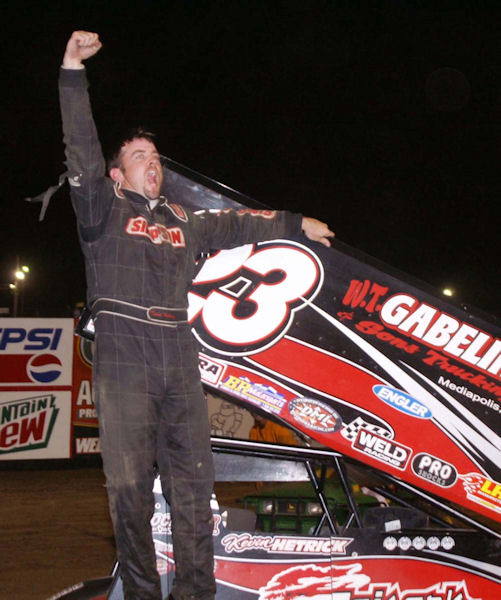 Kevin Hetrick cheers from a top his 305 Sprint tire as he celebrates his Season Championship Feature win at 34 Raceway, West Burlington, Iowa this past Saturday. Friend, Jayson Ditsworth was proclaimed seasons point champion, one point away. "It's been an exciting and challenging year," said Kevin. "It's been a neat battlewith a friend. I'm glad for him!"
---