The Hancock-Henderson Quill, Inc.

---
Meet Your Neighbor
by Misty Huston, Quill Reporter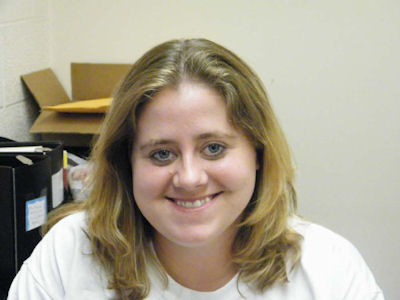 Meet your neighbor, Amanda Liggett, who resides in Carman.
Amanda currently works at Monmouth-Roseville Junior High School as a secretary and is a former Quill employee.
She was born in Iowa City, Iowa and raised in Henderson County, where she has lived all her life.
She graduated from Southern High School in 2004 and continued her education at Carl Sandburg College, through the Southeastern Community College campus, earning her Office Administrative Assistant/Medical Degree.
She is the widow of the late Dustin Liggett and has two daughters, Rozella who is 2, and Dustie who will turn 1 in September.
She is the daughter of Janine and Ken Harkness of Carman. Janine is an Attendance Liaison.
She has one sister, Alyssa Harkness, who works for Home Health Care in Burlington, Iowa and one brother, Josh Harkness, who is a sophomore at Eureka College, playing on their football team as an offensive lineman. He started every game his freshmen year and earned the "Rookie of the Year" award for his outstanding performance. Josh is a former football player for the West Central Heat.
In Amanda's spare time she enjoys raising her two girls, photography, reading, being in the wilderness, going to the river, traveling and watching her brother play football, having bonfires with friends and keeping in touch with everyone on facebook.
Her most memorable moments come from watching her babies growing up and going to her brother's football games with family. She immensely enjoys being a mommy and adores her two girls.
Lately, she is enjoying watching Dustie, who is just starting to walk and venture on her own.
---