The Hancock-Henderson Quill, Inc.

---
Meet Your Neighbor
by Susan Galbraith, Quill Reporter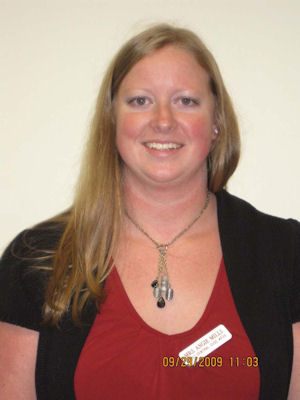 Meet Your Neighbor Angela Mills, of Galesburg, the new 6th grade math and 7th grade health teacher at West Central Junior High in Stronghurst.
Angela previously taught one year at Decatur and 2 years in Galesburg before taking her new position at West Central.
Born in Galesburg, and raised in Lincoln, she graduated from Lincoln High School in 2001.
Angela went on to further her education by receiving her bachelor of science degree in 2006 from Western Illinois University in Macomb. Her major was elementary education with endorsements in math, language, science, and social studies.
This past summer she took Biology 204, as a continued education class, at Western.
Angela is married to hubby, David, of a little over 2 years. They have one son, Peyton (14 months).
David is a teacher at Alwood High School.
Her parents are Cindy and Steve Stover of Lincoln and Randy Couch of Pekin.
Mom, Cindy, is a supervisor at Capital Area Career Center in Springfield. Steve is a high school teacher at Peoria Manual teaching business classes and Randy is employed at Komatsu.
She has one brother, Matt, that lives in Bloomington, and is engaged to Katie Shumaker. They both are employed at Avanti's.
A sister, Stephanie, also lives in Bloomington and is employed by Avanti's and Noodles.
Most of all Angela enjoys spending time with her family, swimming, reading, biking, walking and being outside with Peyton.
This past summer their family rented a beach house at Union Pier, in Michigan just relaxing and having fun!
While at Western she was on the swim team and traveled to Florida each year for training. Angela said, "The weather was beautiful but the training was hard."
She and David attend Mt. Calvary Lutheran Church in Galesburg.
When asked what she enjoyed about her new position at the junior high school she said, "This is my first opportunity to teach math and I love it!"
---