The Hancock-Henderson Quill, Inc.

---
Meet Your Neighbor
by Susan Galbraith, Quill Reporter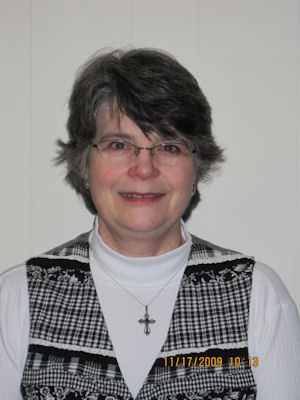 Meet Your Neighbor Anita Munden who lives in Stronghurst and is Pastor of the Carman and Stronghurst United Methodist Churches.
She was born and raised on a farm in the Blue Mound area.
In 1971 Pastor Munden graduated from Blue Mound High School and continued her education at Illinois State University, Normal, receiving her Bachelors in Education and Physics with a minor in Math. She also received a Masters in Accounting from Illinois State University in Accounting and her Masters in Divinity from Garrett Evangelical Seminary.
She and hubby, Frank, have been married for 19 years. Frank is a retired heavy equipment operator. They have one daughter, Leona (Josh) O'dear who lives in Decatur. Leona teaches children with behavioral disorders in Alternative schools and is employed by the Champaign School District. Presently Leona is working on her Masters in Administration. Son-in-law, Josh, is a machinist for Caterpillar in Decatur, and working on his Bachelors in Administration.
Leona and Josh have given Anita and Frank two beautiful grandchildren. Granddaughter Rylee, (4) and grandson, Sean (2).
When Pastor Munden and Frank lived in Decatur they used to live across the street from their grandchildren. She said, "I think my daughter misses not having me close to help with the children."
They also have one son, Christopher Fisher, that lives in Decatur.
This is Pastor Munden's first charge since her graduation from Garrett. She has internshiped at Decatur Grace, was Chaplain at the Presbyterian Home in Decatur and Chapel Coordinator while at Garrett.
Before going into the ministry Anita taught, was an accountant, educated senior citizens to help them with their retirement plans, and did computer pension systems.
Anita and Frank both enjoy the outdoors and their vacations are centered around nature.
Last year, before being appointed to the Stronghurst and Carman Churches, they took a 3 week vacation and enjoyed Daytona, Louisiana, and Texas.
They also took nature vacations to Flagstaff, Arizona, to see the Grand Canyon and other sights of interest in Arizona. She said, "We also love going to the ocean."
What she enjoys the most is her family, reading and writing. She hopes someday to get back to sewing and vegetable gardening.
Her husband enjoys the area as he likes to fish and hunt.
When asked what she liked most about living in the area she said, "We are both delighted to come to this area because of the small churches and how they function more as families, the opportunity to get to know everybody, and the Midwest countryside."
---