The Hancock-Henderson Quill, Inc.

---
Tony DeSare Will Set You In A Warm Wonderful Mood
Live....music on the river
by Dessa Rodeffer, Quill Publisher/Owner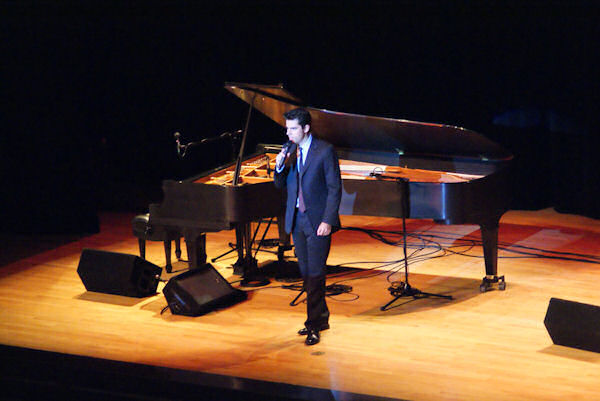 The Burlington Civic Music Association did it again. They brought three musicians who gained immediate approval, standing ovations, and even moments where you could hear a pin drop, as pianist and songwriter Tony DeSare of New York performed "Live.... music on the river" at Burlington's historic and beautiful river-front auditorium.
For most of the two hour performance, the 32 year old Manhattan singer was seated at a large baby grand piano seemingly right at home in the Midwest, tapping his shiny black patent-leather shoes as he sang and played, grinning in a teasing yet confident professional manner looking very sleek in his black pin-striped suit. He had the attention of everyone as he was blessed with sexy looks of the late Ricky Nelson, the mischievous personality of Tom Cruise, and the clear tone and easy listening voice of Frank Sinatra'.
But what flavored his music Sunday evening, besides his polished performance, was his untamed natural talent for arrangement unlike any of the fore-mentioned. His song-writing is fresh, original and brillant.......some of the best live music a trio of musicians could deliver to delight the hard critics of music lovers who regularly come from around the heartland to civic music to be entertained.
Tony's playful arrangement of Johnny Mercer's Autumn Leaves took a classic song through numerous styles of music with a deliberately slow start, moving into calypso, ragtime, and classical movements. It would have kept Andy Williams hopping, trying to keep up.
His inclusion and performance of Fly Me To The Moon written by Burlington, Iowa native Bart Howard in 1954, especially delighted Burlington members which has been performed by Frank Sinatra and Nat King Cole and a slew of others.
Besides Johnny Mercer's Academy Award winning "Moon River" which was perfect for a riverside performance, Tony also performed his own lively arrangement of Bobby Troupe's Route 66 recorded by Cole, Sinatra's, Something's Gotta Give and several of the songs Tony had written since age 17 including Last First Kiss, You'd Be So Nice To Come Home To, and How Will I Say I Love You with lyrics "Sing the blues, I'll listen intently, Call my name, I'll be at your door:.break my heart, I'd still be glad I found you. And that's how I'll say, I know I'll always stay, and that's how I will say, I love you."
He sang and played his own rendition of songs by Duke Ellington, Do Nothing Till You Hear From Me, The Prince, You Don't Have To Be Rich To Be My Girl, and Bobby Darin's jazzed up version of Up The Lazy River.
Tony was not alone in his refreshing performance but his two accompanist delighted the crowd as well with solos.
Bassist, Steve Doyle, a New York Metropolitan performer, active in the music scene amazed the audience with his exuberant style and use of the bow and one easily seen why he is so highly requested among noteworthy artists in New York.
Drummer, Mike Klopp has been drumming since age 7 and hasn't laid the sticks down since, studying drums from 4th grade through college and traveling abroad. He soloed a tune in rambunctious style playing his drum sticks on everything around him including the music stands, the speakers, even his plastic water bottle and ended in a high powered arrangement on the stage floor before moving back into his seat at the drums. He could switch moods which ease as he laid down the sticks and used brushes to set a romantic tone to accompany the elegant music of Tony in I Love The Way You Walk.
By the end of the evening DeSare had the audience eating out of his hand. He invited them to join him in singing part of That's Life, and they didn't miss a beat, and everyone seemed amazingly on pitch as if they had performed the number prior to the show.
It was clear to see everyone loved Tony and they were again up on their feet to give their enthusiastic approval.
Tony, Steve, and Mike delighted them with one final song, Chuck Barry's Johnny Be Good. Tony played right into the hearts of Burlington and several said as they were leaving, "I hope they invite him back."
His Sinatra appeal probably was polished while he was cast as the star of the long running Off-Broadway musical "Our Sinatra."
DeSare has CD's available at www.Amazon.com and at www.Tony DeSare.com.
He has a long list of credentials since he started his career at 17. For the 2009-2010 season, he will be headlining major symphonies around the country as well as his Midwestern tour.
The Burlington Memorial Auditorium holds 1,000 in balcony seats and 587 on the floor with membership being 300 shy a full house, one board member said. They are seldom invited back, only on rare occasions, but instead they try to bring fresh and exciting new performers to the area.
How do they get some of New York's finest talent? They catch the more costly performances at a lesser price such as "Cabaret" as they travel in between performances from New York to Des Moines etc.. Performers want to keep busy as they tour.
Comments from some who attended include Irene Sheridan who said she has been a member of Civic Music since she moved to Burlington, IA from Chicago in 1955. She loves coming although many things have changed as she recalls the days when you dressed in mink coats and spike heels, quite the night out. Mrs. John Witte was head of Civic Music in those days, she said. Today, people usually come as they dress for church, which can be about in anything.
Emilie and Bob Schultz, of Burlington, have been coming for 10 years and they really enjoy the variety. The $80 or $90 (reserved seating) for the year is worth the price she said, even if you only go to one. "There is always one that is outstanding, and I am looking forward to Cabaret she said.
Jane Weir, Barb Price, and June Galbraith came together from the Gladstone-Biggsville area. Barb has been coming the longest, close to 15 years. They really love it and like others, is glad there is something like this that is so close to home rather than having to drive so far. It is really cheap entertainment when it is this close and the price is worth just one of the performances.
The women really enjoyed the Korean dancers last year and said they made you want to get up and dance along. Barb said she had been surprised at her husband who had never liked ballet, but when they came, he really liked it and surprised by the elaborate outfits they wore.
They remember seeing Red Shelton, Bill Cosby, Peter Nero and many other wonderful performers. There use to be fewer shows, 4 or 5, but now there are 8 shows throughout the year. Everyone agreed, that there were no disappointments with Tony DeSare. He definitely has the Midwest values growing up on a farm in northern New York, reflected a sincere heart beside bring an impressive musician.
They agreed that it was a great value to be a part of the "Live Music on the river" brought on by the Burlington Civic Music Association, and It was one of the good things about living in the rural area. It's brought value to the heartland - the best of both worlds.
Hats off to the 2009-2010 Burlington Civic Music Board Rich Burlingame, President, Barbara McRoberts Vice President, Lois Rigdon, Secretary, Mary Saye, Treasurer and twenty-three other board members: Craig Borchard, Kevin Carr, Monika Coursey, Roger Hatteberg, David Hazell, Susan Houseal, Judy Johnson, Maryann Jordahl, Kela Luers, Judy Masenbgarb, Betty Morlan, Kathy Rashid, Linda Riley, John Roth, Ruth Ann Sandrock, Mary Saxton, Beverly Simone, Bobby Wilson, Jane M. Wilson, Sandra Allgood, Mike Courtney, Laurine Paule, and Pat Whitmore.
---