The Hancock-Henderson Quill, Inc.

---
Meet Your Neighbor
by Susan Galbraith, Quill Reporter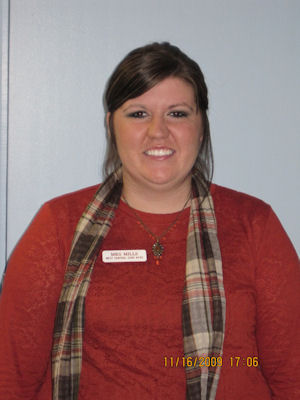 Meet Your Neighbor Nikki Mills, a second year teacher at West Central Elementary.
She was born and raised in Little York and graduated in 2002 from Yorkwood High School.
Nikki then attended Southeastern Community College in West Burlington, Iowa, before transferring to Western Illinois University, in Macomb, where she received her elementary teaching degree in 2007.
She is married to John, her hubby of 2 years.
Her parents are Carol and Tom Brownlee of Little York. Her mom is a nurse employed by the Henderson County Health Department in Gladstone and St. Mary's Hospital in Galesburg. Dad, Tom, is employed at John Deere in Moline.
Nikki has three sisters, Heather who lives in Alexis and is a radiology technician at Muscatine Hospital in Muscatine, Iowa; Kristen who lives in Little York and is employed by Midwest Bank and Marissa, a sophomore at Monmouth College.
Nikki said, "I simply adore my niece and nephew, Lexi (9) and Luke (3) Mills and loves spending time with them. I made each of them a photo scrapbook which is something I love doing.
I have made several for gifts. I made one for my sister's birthday, last summer, and as she was looking through the pages her tears were flowing. I also enjoy shopping and especially look forward to "Black Friday"!
One of her favorite vacations was this year when her sister, Kristen, her mom, John's sister, Rachel, and herself went parasailing at Myrtle Beach, South Carolina. They also did dolphin and shark watching.
"We go about every summer since John's sister lives in Sunset Beach."
John and Nikki also vacationed at the Dells, with friends, and went kayaking. John's gift to her was her very own pink kayak. With friends and family they go kayaking at creeks, the river and also in Michigan.
When asked what she liked about teaching Nikki replied, "I love West Central, having the privilege to be a positive roll model and knowing I am able to make a difference each and every day. Also, the teamwork with the other third grade classes is extremely beneficial.
---