The Hancock-Henderson Quill, Inc.

---
Meet Your Neighbor
by Jenna Clayton Quill Reporter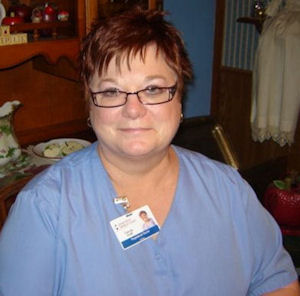 Meet your neighbor Connie Kraft, daughter of Lee and Lottie Avery.
She was born and raised in Media, the oldest of four children. Her siblings are Dianna, Neal, and Sheldon.
She was raised doing a lot of baby-sitting and taught with strong, good, old-fashioned morals. Her Grandma Avery was a big influence on her growing up and was Kraft's role model.
Kraft graduated from Media Weaver High School in 1967 and went on to Burlington Hospital School of Nursing for a year and then to Southeastern Community College for a degree Nursing Science. She graduated in 1972 and then went back later to graduate in 1988 which was the same year as her oldest daughter graduated from High School and youngest graduated from Junior High School.
Kraft is now married to her husband Darrell, and has two daughters, Julie and Kelly, and four grandsons, Justin (18), Jason (14), Mitchell (13), and Jared (9).
She is a registered nurse and works in the endoscopy suite at Great River Medical Center in Burlington, Iowa where her job includes getting patients ready for procedures, working in the recovery area, IV sedation, and discharging patients.
She previously has worked as a waitress as a teenager and as the coordinator for the La Harpe Ambulance. She is affiliated with the Certified Gastroenterology Nurse Association (CGNA) and Critical Care Nursing. She is a certified CPR instructor and she and her husband attend Faith Assembly of God in Hamilton.
She loves crossword puzzles, crafts, spending time with her grandsons, going to car shows and showing her and her husband's old cars, shopping, and used to really enjoy bowling.
Moments in Kraft's life that stand out are the births of their daughters and grandkids, she worked in the hospital where her grandkids were born and was able to give each one their first bath and cut the umbilical cords of each.
Also she met her husband, Darrell, in the cafe she worked at when he would come in and tease her. They have been married for forty-one years.
Kraft strongly believes in the power of prayer and says, "Keep reaching for the stars, never give up!"
---