The Hancock-Henderson Quill, Inc.

---
Churches Of The Heartland
THE UNION CHURCH
by Dessa Rodeffer, Quill publisher/owner
Rev. Bruce Goettsche, is pastor at the Union Church of La Harpe, one of many preachers of the gospels since the first settlers organized a the Congregational Church in 1836, the same year La Harpe became a town. Two churches were formed by pioneers from New England, The Congregational Church on the present lot of the church, and in 1942, The Methodist Protestant Church which was demolished after the two churches combined in 1915.
An interesting note is that a Seminary was established by the Methodist Protestants with an average of 75 students with Mr. Charles Duryea, inventor of the automobile, one of the first graduates of The Gittings Seminary in 1893. It closed in 1909 due to a greater financial backing of public schools.
Pastors of the churches were cooperative and "God fearing men, faithfully preaching, teaching, and living the word of God," according to La Harpe's Sesquicentennial book of 1986. "The faithful ministry of these churches had a great influence for good in the building of the Kingdom of God."
Today, the church averages around 200 every Sunday and has an active calender, a large regular prayer list, active Sunday School along with a unique radio ministry.
"God's Truth for Daily Living" began back in November of 1997 and was the idea of Lyman Fort, a Christian attorney from Stronghurst. Fort originally underwrote the cost of the program on KBUR, Burlington, IA. then suddenly passed away the next year. His memorial was to the radio broadcasts.
They had such a stunning response from the program that they expanded to WCAZ in Carthage. A year later they joined the new Christian Station KAYP in Burlington, IA. They developed a 15 minute daily version of the program, airing it three days a week on KAYP.
When KMDY/WGNX came to Carthage, the church saw an opportunity to go east in Macomb and surrounding communities. KMDY wanted both the Sunday and a five-day a week daily program. In the last year they expanded to 5 days a week on KAYP.
KBUR 1490 AM (Burlington)
KMDY (90.9 FM) (Keokuk)
WGNX (96.7 FM) (Carthage, Macomb, etc)
KAYP (89.9 FM) (Burlington, Mt. Pleasant, Ottumwa etc)
WCAZ (990 AM) (Tri-state area)
Daily 4:05 p.m. KAYP
Daily 6:00 p.m. KMDY/WGNX
"The people of the Union Church are enthusiastically behind our radio ministry," Pastor Bruce said. "Many people have joined and visit the church due to the broadcasts."
"People are constantly surprised when they run into people (from Ottumwa IA to Bushnell etc.) who say they are regular listeners. Therefore, the church invests a great deal of money into this outreach."
"We are blessed by wonderful corporate sponsors who help underwrite broadcasts:
Greg Miller of LPL Financial Services in Burlington
La Harpe Telephone Company
First State Bank of Illinois
R & D Foods
K & C Enterprises
Rural Family Health Clinic in La Harpe
And several personal sponsors
"We often receive support from our listeners. It is an expensive outreach but it is also one that we feel is paying wonderful dividends. We are very grateful to have Barb Cox editing our Sunday morning broadcasts. I still do all the production and editing for the daily broadcasts."
Pastor Bruce Goettsche has also written and published several books including:
Faith Lessons: Lessons in Faith from Genesis
Finding Your Way Through the Fog (the book of Colossians)
Joy: Finding It, Keeping It (from Philippians)
Difficult People: Dealing with Those Who Drive You Crazy (co-authored with Rick Goettsche)
Others are forthcoming, he says, but he's been too busy editing radio broadcasts to have much free time to write.
"There will be additional books, Lord willing," he said.
Web: www.unionchurch.com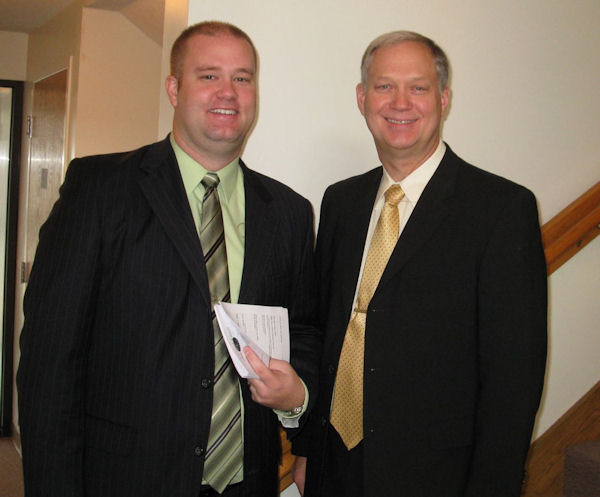 From left, Pastor Rick and Pastor Bruce Goettsche greeting at the 8:00 a.m. Sunday worship service. A variety of people greet at 10:30 a.m.. A nursery is available at both the 8:00 and 10:30 services. Children's Church is available during the 10:30 service and both services are the same with the early church a more relaxed style.
Communion is taken once a month and almost never introduce it the same way. Pastor Bruce says, "We see communion as a powerful picture which reminds us that our salvation has come as a gift from God through the death and Resurrection of Jesus Christ."

The beautiful yellow and brown building of The Union Church congregation is located one block north of Main Street in La Harpe on Center Street. There are many doors to the church. The center doors to the bell tower and to the basement are not in service but all other doors are open. The most used entrance are the glass doors at the most recent addition at right. There is plenty of parking in back and on the sides of the church. Check out all the church's many activities on the web at www.unionchurch.com
---