The Hancock-Henderson Quill, Inc.

---
Meet Your Neighbor
by Susan Galbraith, Quill Reporter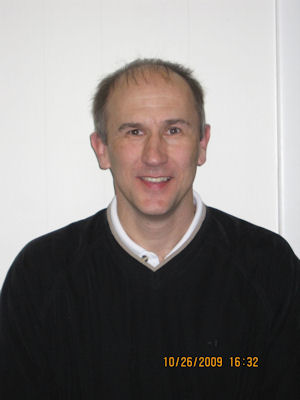 Meet Your Neighbor Charlie Carver of Stronghurst.
Charlie is a new staff member at West Central High School where he teaches physics, chemistry, earth science, physical science and advanced biology. When he isn't teaching he is head coach of the boys varsity basketball team.
He was born and raised in Leavenworth, Indiana, which lies on the Ohio River. He graduated from Crawford Community High School and furthered his education by receiving a bachelor of science degree in secondary education, with a primary focus in chemistry, from Oakland University in Oakland, Indiana.
He is two classes shy of receiving his masters in curriculum and instruction.
Charlie says, "I've been married to my lovely wife Pam for 14 years." They met while at college at Oakland University where Pam received her degree in business administration. They have a son, Alex (5), a student at West Central Pre-K.
They adopted Alex from an orphanage in Astrakhan, Russia, when he was 13 months old. They celebrate his birthday on October 28th, the day they were presented with their new son. The agency responsible for helping them adopt Alex was Children's Hope International in St. Louis, Missouri.
Both of Charlie's parents were educators. His father, Charles is deceased and his mom, Rita, is a retired teacher whose home is in New Albany, Indiana.
He has one sister, Kyann, (Earl) Cummings. She is an accountant in Albany. Earl was in the military, injured in Iraq, and since returning home is furthering his education. Kyann and Earl have a daughter, Arabella who is 14 months old.
Recently moving to Stronghurst thy attend the Christian Church.
While a teacher at Oakland Community, Charlie received, "Teacher of the Year' Award for the 2002-2003 and 2007-2008 academic school year. That honor is given by the National Honor Society, administrative staff, and students. In 2007-2008 he received the "Coach of the Year" award from the Mattoon-Charleston Journal Gazette.
During his time at Oakland, besides his teaching responsiblities, he was head varsity basketball coach.
He said, "We love to travel in the summer and our favorite place to vacation is at Santa Bella Island in Florida."
He is also a golfer and played his first round of golf recently at Hend-Co-Hills with Alex as his passenger in the golf cart.
He enjoys old movies, even silent movies. He has several favorites but he named "Citizen Kane' and "Gone With the Wind.'
What he likes most about being on the staff at West Central is, "I was brought up in the Midwest and I love the kids and feel extremely fortunate to be a teacher. I truly love teaching and coaching."
---