The Hancock-Henderson Quill, Inc.

---
Meet Your Neighbor
by Jenna Clayton Quill Reporter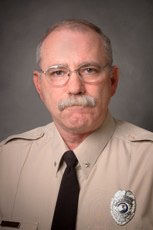 Meet your Neighbor Dean Spangler, son of Arthur and Margie. He was raised in a farming family with his siblings Dan, Dorinda, and Darren south of Fountain Green on his family's farm.
He graduated from La Harpe High School in 1974 and later from Carl Sandburg and from WIU in 1986 with a degree in Law Enforcement, then from John Wood in 2009 with a degree in Homeland Security, the first to graduate in that program.
Spangler is now married to his wife Sharon and has five children, Wesley, Tammy, Jake, Sarah and Joe (1981-2000). He has one grandchild, Kayla, a "Soccer Superstar."
Spangler is a Patrol Officer at the La Harpe Police Department. He has previously been a Police Officer with Campus Police, John Wood Community College, Village Marshal of Augusta, Illinois, Security Officer at Circus Circus, Las Vegas, Maintenance and Electrician at Methode in Carthage, worked at Carthage Police Department, and worked for thirteen years at the Iowa State Penitentiary, the last eight as Lieutenant.
He is affiliated with the Hancock County Gun Club, he is a life member of NRA, and a life member of National Guard Association of Illinois.
Spangler went into regular Army (Infantry) right after High School for four years and went into the Army Reserve after that. He spent about eighteen years in the Reserve and National Guard (Armor, Infantry, and Combat Engineer) he retired as First Sergeant.
His hobbies are collecting vintage G.I. Joe dolls and target and competition shooting activities.
One thing Spangler will never forget in his life is his son Joe's graduation from USAF Basic Training.
Spangler says, "Never discount what you cannot disprove."
---