The Hancock-Henderson Quill, Inc.

---
TREASURE IN THE HEARTLAND ABOVE IT ALL
by: db Conard, Quill Reporter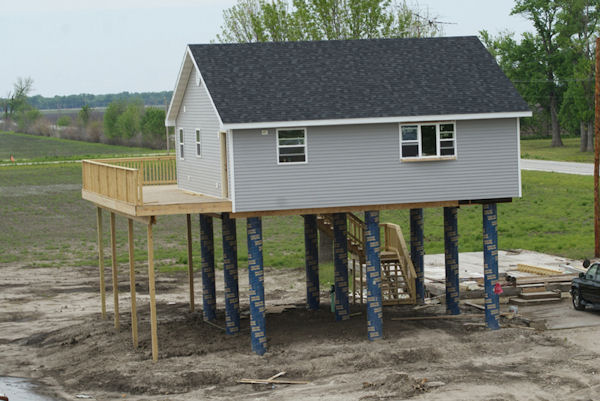 A very long journey that began with a flood, is soon to be over for Michael and Diane Whitmore.
It has taken them months to get back to a place called home that almost a year ago was destroyed by the big muddy waters.
Diane was at work when Mike had awakened to water surrounding his home. "Indescribable!" is how Mike describes his experience of being in the middle of a real disaster.
Ten more minutes and the story would have been a completely different one. Mike feels he came that close, if he hadn't awaken when he did.
Scary, wasn't the word for the power of the river and what it did to Mike and Diane's land. Corn cribs, sheds, equipment, all their belongings and "puff," in just a moment, it was all destroyed.
For almost 60 years Mike and his family had been a part of the same land. Memories were stacked one on top of another, which only comes from spending time in one place.
Mike tunes pianos, and has been doing so for more than 40 years. His sense of balance and tone has touched the ears of many people who may never know his part in the music they enjoy.
Mike would have felt out of tune if he would have to live anywhere else than his home land. Moving away was not an option for he or his wife.
Tearing down, cleaning up, and then finally, building a new home was way more than twice the work of building just one house. And building 17 feet off the ground has its own set of challenges.
Mike and Diane, in the same manner as yesterdays pioneers, took the problem of the possibility of a future flood, and solved it.
When the next flood comes it will just mean good fishing for the Whitmores. And in addition to the new peace of mind, they are enjoying unobstructed sunsets, that make them hurry home each evening.
They are an island to themselves, perched 17.5 feet off the ground surrounded by a beautiful deck. Every regular traveler on the Carman blacktop has witnessed the progress of their efforts, but few can imagine the difference a few feet can make in their view of things.
The 20 ft. log, laying on top of Whitmore's tractor shed roof is actually below the level of their new deck. Were the same flood to happen today, there would be room to spare before anyone's feet would get wet.
The treasure is two people who could have done the easy thing by giving up on what they knew so well as home, but they didn't.
Instead, they overcame the disaster by literally lifting themselves up, above it all.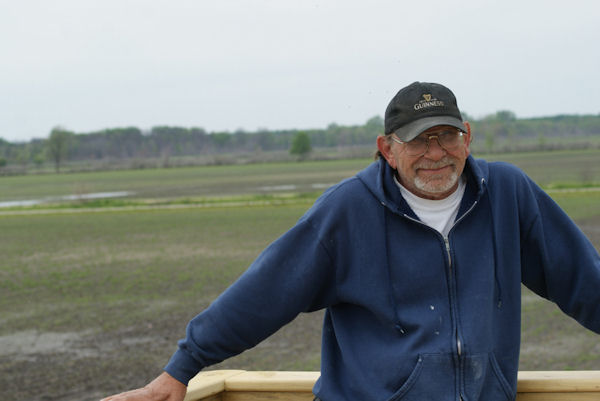 Mike Whitmore, near the Carthage Lake Road and the Carman blacktop, stands on the deck of his new elevated home - now flood proof from danger of the raging Mississippi river.
---