The Hancock-Henderson Quill, Inc.

---
Honorary Survivors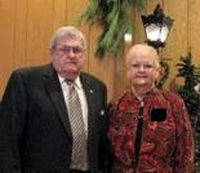 -Alta Mae Brokaw
Alta Mae Brokaw was diagnosed with Thyroid Cancer in October of 1975. Thyroid cancer is relatively rare, accounting for only about 1 percent of all cases of cancer.
In most cases the cause of the condition is unknown, although it is one of the cancers associated with exposure to radioactive fallout. Thyroid cancer has one of the highest cure rates of all cancers.
A thyroid cancer is usually first noticed as a single firm nodule in the neck, which, on initial physical examination. cannot be distinguished from a benign non-cancerous mass.
Sitting at my desk in the classroom at Tri-Valley Middle School, I was grading papers, when I put my hand on my neck. I immediately felt a large lump.
Previously, when I was in college, one of my roommates had been diagnosed with Non-Hodgkin's Lymphoma, with a lump in her neck. She lost her battle with cancer five years later.
Knowing this I immediately went to my family doctor, Dr. Mueller in La Harpe. He sent me to a surgeon in Macomb, thinking that he would do a biopsy. The surgeon wasn't alarmed and told me to go home and watch it.
Needless to say, I was not satisfied with the results of that visit. I contacted Dr. Mueller and told him what had happened. He felt it was serious enough to check further. I went to the Mayo Clinic in Rochester, Minnesota and on the second day a biopsy was performed and I was diagnosed with Thyroid cancer.
They had not prepared me for major surgery, so I had to come home for two weeks and do some healing before surgery. That was probably two of the longest weeks of my life.
During surgery they removed the right side of my thyroid and 5 lymph nodes in my neck. The cancer had not spread to the lymph nodes. However, during surgery they had to tie my vocal cords to the side so they could be sure and remove all the cancerous area. My vocal cords were bruised and I could only talk at a whisper.
The doctor told me my voice would return in six weeks. It was exactly six weeks to the day from surgery that my voice returned normally. Due to the fact my voice was so weak, I was not able to return to work until after Christmas break that year.
In February of 1976 I returned to the Mayo Clinic and stayed at St. Mary's Hospital for a week. I was involved in a clinic study on Thyroid Cancer. Every day I had to go to the clinic for tests and blood work.
At the end of the study I was given radioactive iodine to drink. This dose of radioactive iodine destroyed the other side of my thyroid. I started taking thyroid replacement medication at that time and I have been on it now for thirty-three years.
During the five years following my surgery I returned to Mayo Clinic many times for checkups, blood work, scans, and many tests. After the five years, I was considered cancer free and have had no recurrence. During the time of my illness, I was blessed with the help of my family, friends, and co-workers.
However, my husband, Lawrence has been my stable rock through several more rough times in my life. He still is the one that I can always depend on in the time of need.
My story would not be compete if I didn't thank my Lord and Savior, Jesus Christ, for being there with me through the cancer and other trying times in my life. The Raritan Baptist Church families were wonderful and have always lifted me up in prayer and they continue to do so today.
Survivor-Lawrence Brokaw
Like most people I always thought I would breeze through life without any of those problems other people seemed to get involved with.
Even in the 1970's when I helped give my wife support when she had Thyroid cancer, I went about life thinking I would escape getting cancer.
On May 2, 2001 when I was working in the yard and as I bent over to pull weeds and the mower handle brushed against my stomach I had an odd feeling something was not right, but I didn't give it anymore thought.
However, later in the day the same thing happened and the pain was more intense. This made me stop and think what is going on, but I dismissed it and continued with my work.
On Monday morning a door swung shut and the doorknob hit me in the stomach. I did not get that pain out of my mind.
I had my wife call my doctor and make an appointment as soon as possible. On the 10th of May I saw my doctor. He had me go for blood and urine testing.
On May 16th I was told that I was to have a scan on the 20th of May. I returned on the 22nd and was told that I needed to be back on the 23rd. On the 23rd, when I arrived I was told that I didn't have to wait, they were waiting for me.
When I entered the doctor's office I expected to see my doctor, however there was another doctor there. He introduced himself as a surgeon. I told him there must be a mistake. He told me he had seen all the tests and the scan.
He told me that he was 95% accurate that I have a bad case of colon cancer. May 23rd was my birthday. WHAT A PRESENT! I was scheduled for a colonoscopy the next day and for surgery on the following Monday, May 26th.
I wanted to postpone it for a week, so my wife could finish school and we could get through graduation. After all, we had parties to attend. He told me all that could go on, however, I was having surgery on Monday morning. He also informed me I should continue my liquid diet. I was on a liquid diet for 4 days and no food for 17 days.
They removed one-half of my colon, two different sections of my small intestines, and a small portion of my stomach. After four weeks of recovery, I started a series of 25 radiation treatments followed by 18 chemotherapy treatments.
Over the next two years they found three moles, one was malignant. After three more years, I was given the all clear. I feel very fortunate to have had four doctors that I had complete faith in and still do.
My advice to anyone is do not fear tests that will let you know what a pain is. The tests aren't the worst things you may experience, but the unknown may be much worse than the tests.
I really appreciate my family and friends for the support and prayers during this trying time in my life. I greatly appreciate my wife for putting up with me. I know sometimes I was not the most pleasant person to be around.
---