The Hancock-Henderson Quill, Inc.

---
It's No Fish Tale At Illini West
Jim Clayton, Quill Reporter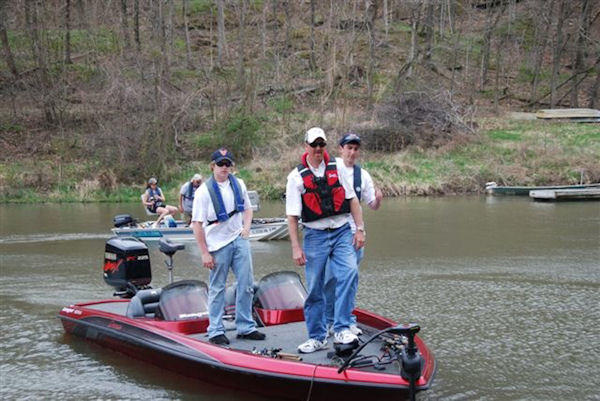 Not Just a Fish Story
Is bass fishing a high school sport?
That is no fish tale, it is so, and Illini West High School is in, in a big way.
Discussion has been underway for over two years as to whether this would take place and in what form.
What was decided was that there would be a sectional event and a state event.
Each school could schedule events with other schools and compete, but the only event that would determine state qualifying would be the sectionals held at sites all across Illinois.
The one that held the most interest for the local community was at Argyle Lake, where two teams from Illini-West competed. One of those teams placed third in the sectional and qualified for competition in the first annual Illinois High School Association bass fishing tournament. As a matter of fact it is the first such tourney to ever be held in the United States.
The qualifying team was made up of Brian Lafferty, sophomore and Travis Wilson, junior.
The team is coached by Harold Northup who is the Technology Education teacher at Illini West and also the golf coach.
"I am very excited about this opportunity. I don't think people realize what is involved and what an impact this could make on some students who are not traditionally interested in athletics," said Northup.
"I also think it is a major plus that boys and girls will be competing together in this, there was at least one all girl team at state."
"There are so many things that each competitor has to know coming in, that they have to have a good working knowledge of fishing just to start. They need to know about baits, colors of baits, water clarity, lake structure, fish population and even weather conditions," added Northup. "I am doing what I love to do and doing it competitively," said Lafferty. "It was awesome, I am 100% in!"
The IHSA has labeled bass fishing as an activity rather than a sport, but this is more for getting started with the program and being able to get some help at each school without having to go through the certification process that is typical for coaches.
"There are some bugs to work out, but overall it was a great experience, the state tournament was run very well and was very well organized," continued Northup.
"They have a plan for the next several years already posted the IHSA website (www.IHSA.org) and they have made a commitment to continue with this for at least the next several years."
I am very excited, on a scale of 1 to 10 I would rate this a ten. I wish we could have placed better at state, but I so happy that there is going to be a team for something I do all the time anyway," said Wilson.
After qualifying at the sectional with a catch weight of 5.8 pounds (five fish) it was off to Carlyle, Illinois to fish Lake Carlyle, the biggest man-made lake in the state of Illinois (26,000 acres). The team of Lafferty and Wilson placed 22 out of 52 teams with a catch of 2 fish and a total weight of 2.38 pounds.
"These guys really fared well considering that they did not know the lake, the weather was questionable on Friday and they did not know the hot spots or the structure of the lake. I am very proud of our guys, they did a great job," said Northup.
"Travis and I have fished together a lot, even competitively. I really think we could do a lot better than we did at Argyle, because that is our home lake. I am looking forward to next year, I am definitely coming back," said Lafferty.
"I am definitely excited about coming back, I have been concentrating on bass fishing for the last three or four years, and now I have a chance to do it for the school, I am in," added Wilson.
So, it seems at least a few of our teens will have some fish tales to tell their kids and grandkids, they were on the very first organized high school bass fishing program in the nation, and, that first year, "They caught one this big!"
You can learn more about the tournament and the future of fishing in the high schools by going to www.ihsa.org and clicking on bass fishing in the drop down menu at the top of the home page.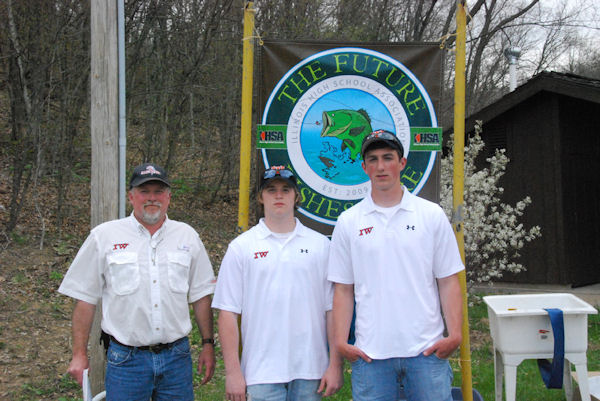 Pictured is Coach Harold Northup, Illini West Technology Education teacher and Golf coach as well as Fishing coach with the Illini West's Qualifying Fish Team -Brian Lafferty, sophomore and Travis Wilson, junior.
---