The Hancock-Henderson Quill, Inc.

---
Waterman Signs For Eureka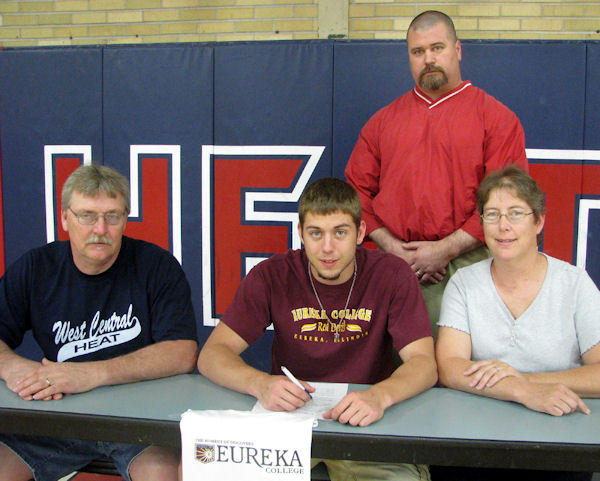 Six years ago, Jacob Waterman never thought this day would come, playing football at the college level.
Jacob signed to play football with the Eureka Red Devils on May 7th. He has been dreaming of this day ever since he started playing football in the 7th grade, the first year that the old Union School offered jr. high football.
Had it not been for Coach Steve Arnold, he probably never would have reached his dream. Coach Arnold taught Jacob to push through any roadblock or challenge in his way, on and off the field.
Thanks to the discipline of lifting weights year around, and the endurance to stay with the game when things weren't always easy, Jacob went on to receive some very high awards his senior year.
He first received Athlete of the Week award from the Review Atlas, in Monmouth, for the game he played against Galva.
He received 1st Team All Conference from the West Prairie Trail Conference, and in December was named to the Galesburg Register Mail's All Area Team.
Many colleges had contacted Jacob but he narrowed it down to a few and went to visit. When he went to Eureka he knew without a doubt, that is where he wanted to attend. Not only did the football program fit, but also the professors.
Jacob will be studying for a master's degree in Criminal Justice.
When he graduates he plans on getting a job in the DNR field as a Conservation Officer.
Another great appeal that Eureka holds is that Josh Harkness attends college there. Josh is a friend of Jacob's and he also plays football for the Red Devils.
The Red Devils have hired a new coach this year, Kurt Barth, who played football at Eureka. Coach Barth is looking forward to heading back to his Alma Mater. He is a record setting wide receiver and Eureka Athletics Hall of Fame inductee.
Eureka competes at the NCAA Division III level in the Upper Midwest Athletic Conference. It is returning 55 from last year's roster.
If Jacob continues to push himself, he could very well earn a starting position his first year.
---