The Hancock-Henderson Quill, Inc.

---
I Wanna?
Jim Clayton, Quill Reporter
If a person is not familiar with the AWANA program it may seem that the person telling you about it is slurring their speech or speaking a different language.
Or it may sound like the ever present cry of a small child as they walk through the grocery store with their mother and shout "I wanna' after everything they see.
All three would be fair guesses, but wrong. The term AWANA is actually an acronym coined using the letters of a Bible verse, 2 Timothy 2:15 which says, Approved Workmen Are Not Ashamed.
And is the basis for a church based program that began on the north side of Chicago in 1950 as a youth program at the North Side Gospel Center. 
The success of the program grew by leaps and bounds and by 1960 there were over 900 registered programs. And, it didn't stop there, because today there are over 10,000 clubs in the United States, every state is represented, and over 3,000 programs in churches in 110 countries outside the USA.
The AWANA program has found its way to La Harpe. The Union Church is in their second year using this curriculum and has created a place for children to come, be safe, learn the Bible, play games and have an overall wholesome time. AWANA meets during the school year and just finished their year with a day camp of sorts at the Annex in La Harpe.
Pastor Bruce Goettsche says, "It is a wonderful program for the kids and we are constantly refining it to make it a good fit for our community."
During the regular meetings which have been taking place on Wednesday evenings from 6:00 p.m. to 7:30 p.m. children pay tribute to the flag, say a prayer, spend some time memorizing scripture, play some games and end the evening with a lesson that centers around an aspect of the Bible they have learned and closes with an award ceremony where children who have attained certain levels in their respective books are rewarded for their hard work.
But, along with the usual, this last weekend was made very special. La Harpe resident Jim Ford took the AWANA program to new heights with a day filled with a Native American retrospective. All the games, lessons, crafts and food had elements of Native American culture as their inspiration.
Each child made an authentic bead necklace with a Biblical theme to wear for the day. They each made a plaster cast of an animal print and made ink prints on their t-shirts to coincide with Ford's theme, I'm On Track.
Ford is drawing from over 20 years of history and experience in this culture. And most of all his props were items he made himself in the traditional Native American way and with traditional materials.
As Pastor Goettsche observed the activities he noted, "I think the adults were having as much fun, if not more, than the kids!"
The evening culminated around the campfire, although it was a home-made electrical version, it was very real to see and really set the mood for the evening.
The children all made honor feathers decorated with beads, horse hair, leather and felt and told they had to give them to someone of honor and could not keep them. This giving was likened to what Christ did at the cross for mankind and it would be dishonorable to keep the honor feather.
The children were enthralled as they listened to the tales Ford relayed throughout the day and many of them did not want to leave. As a matter of fact, many of them could be heard saying, "I don't wanna' as parents coaxed them out the door.
If you would like more information on the AWANA program you can contact the Union Church at 217-659-7784.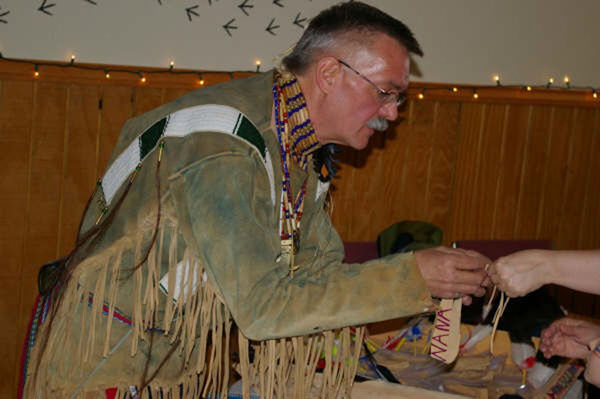 Jim Ford is helping with crafts at the La Harpe Union Church.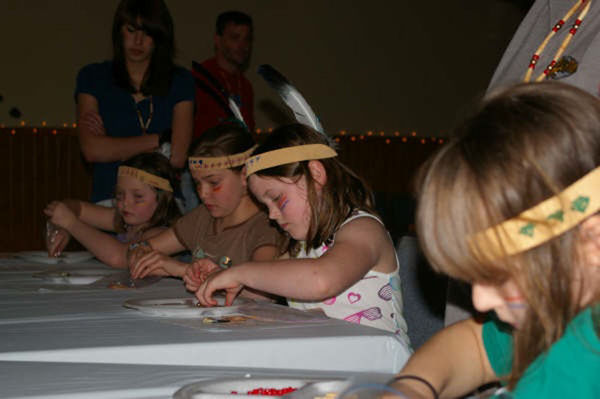 They love making crafts at the La Harpe Union Church Christian Awana program for kids.
---