The Hancock-Henderson Quill, Inc.

---
Cody Postle Signs at Quincy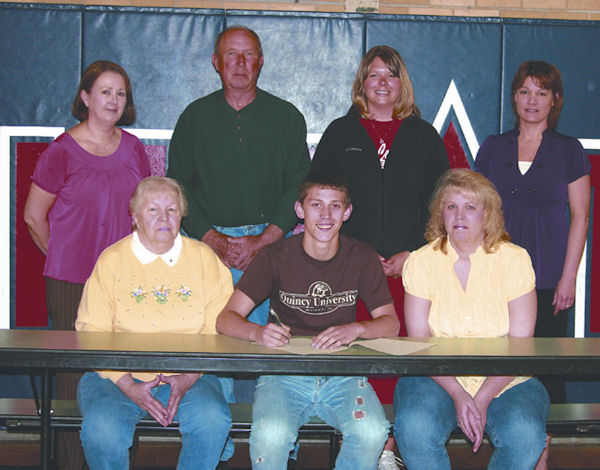 photo courtesy Review Atlas
West Central Has 6th Senior Sign On For College Sports
Cody Postle To Play Volleyball At Q.U.
Volleyball began for Cody in the 5th grade going to his older sister Valerie's games at Southern but I doubt then that he ever thought it would be the sport that took him to college.
It was Coach Deb Gillam of Media that let him attend practices that eventually led him to become the manager and then later to play.
" I didn't work out with them then," Cody said, "but in high school I did. I was encouraged by Ms. Gillam."
Ms. Gillam said, "Last year he went to volleyball camp at St. Ambrose University in the Quad Cities. Passing, hitting, and setting ending with a three on three tournament.
He also played at the "Y" with former Union High School fame Stephanie Higgins. She was recruited into college as a premier player and also coaches the game.
"I learned a lot from Stephanie," he said.
His grandmother Rosie Postle said "That is all he does when he goes outside is bat the volleyball against the building, continuously."
His cousin Ali added, "That is all he wants to do. "Let's go play volleyball! Let's go play volleyball!'"
"They are going to play tonight at the Rex Plex," his grandmother said.
If Cody had a choice to doing anything, he would choose volleyball, he said.
So, his grandparents said they looked for colleges that had a men's volleyball program, and there was Quincy University. It was where his sister Valerie had attended - far enough and - close enough, too, with a coach that was willing to offer him a chance.
He also likes being close to the schools where two classmates have signed to play sports.
Ashley Coffey signed a two year letter of intent with John Wood Community College in Quincy to play basketball, and Julianna Gillam, (Coach Gillam's daughter), signed a four year commitment to play volleyball with Culver Stockton College in nearby Canton, MO.
"It wasn't a hard pick," Cody said about Q.U.. "There weren't that many options offering men's volleyball."
"I just emailed their coach and kept in contact with him, and he finally said that he had started out the same way, so he was going to give me a try."
Cody didn't have to try out he just was told by Hawk Coach to come down and he would be on the team.
His grandmother said, "I'll be to every Quincy home game. I haven't missed many of his track meets or his volleyball games.", she said.
His grandfather Gerald said he would be riding along with Rosie.
Athletic director Jay Blender commented on Cody being such a good kid at West Central, active in student council and other activities. "He'll be an asset at Q.U."
The Hawks ended their season last year 17-33, but the score does not reflect the whole story for the Division I school as they are successful in the classroom, also.
Eleven Hawks were named Academic All-Conference, the most in school history. QU coach Hadley Foster begins his 4th season this fall. For more information on Quincy University go to www.quincy.edu.
---