The Hancock-Henderson Quill, Inc.

---
Meet Your Neighbor
by Jenna Clayton, Quill Reporter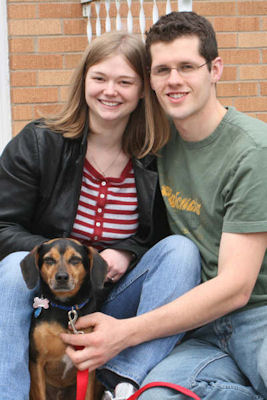 Meet your neighbor, Rachel Rutan. Rachel was born and raised in La Harpe, the daughter of Pastor Bruce and Maggie Goettsche and sister to Rick Goettsche.
Rutan graduated from La Harpe in 2003 and from Saint Ambrose University in 2007 with a degree in Psychology.
This year she graduated from St. Ambrose with her doctorate in Physical Therapy.
Rutan was married to Michael Rutan on April 25 of this year.
They just returned from their honeymoon on the Canadian side of Niagara Falls last Saturday.
As of our last conversation Rachel was still waiting for her luggage to be delivered.
The Rutans love spending time with family and friends and playing with their dog, Pete.
The Rutans attend The Union Church in La Harpe.
Rutan currently works as a physical therapist at McDonough District Hospital's outpatient clinic.
She primarily treats neck, back, knee and shoulder pain.
And a reliable source has said that she really has a way with the patients, she has been known to have success with even the most difficult.
Her quiet and contemplative way make her a good fit for the work she does and we should all be glad to call her neighbor.
---