The Hancock-Henderson Quill, Inc.

---
Meet Your Neighbor
by Susan Galbraith, Quill Reporter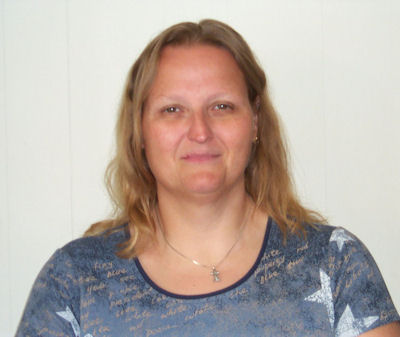 Meet Your Neighbor Donna Pindell
Donna was born in Burlington, Iowa, and has lived in Stronghurst her entire life.
She is employed by the Hawkeye newspaper in Burlington, Iowa, as Customer Service Supervisor.
In 1984 she graduated from Southern High School.
Donna has a clerical degree from Carl Sandburg College, Galesburg, and a medical assistant certificate from Southeastern Community College in West Burlington, Iowa.
Donna and husband, Michael, have been married for 20 years. Michael is employed by Federal Mogul in Burlington, Iowa.
She has a stepdaughter, Melissa (Chad) Starman who live in Burlington, Iowa. Melissa is a stay-at-home mom and Chad is an independent truck driver.
Donna and Michael have three grandchildren, Taylor (7), Shania (6) and Dalton (3).
Her parents, Frank and Janet Avery are deceased, but were Stronghurst residents all their life.
Donna's brother is Bob, (Judy) Avery, who also live in Stronghurst. Another brother, Dan, is deceased.
Donna's part-time job is secretary-treasurer of the Sprint Invaders Association. It is an association based in Burlington, Iowa.
The Sprint Invaders is a traveling series. Donna and Michael travel from Jacksonville to West Liberty, Iowa to watch races. They also are involved in Raceways 34 and sprint racing.
She and Michael have traveled to Australia twice and to New Zealand once to enjoy racing. They have a good friend, they met in the racing circuit, that lives in Auckland and is coming to Knoxville, Iowa to race. It is part of a Sprint Invaders exchange program.
Donna also loves scrapbooking, when she has time. She has completed 10 albums.
They are members of the First United Methodist Church in Stronghurst.
---