The Hancock-Henderson Quill, Inc.

---
"Our Girls" In The State Winners Circle, #1, #2!
Number One
Jim Clayton - Quill Reporter
Eagle Fans are extremely proud of the 7th and 8th grade girls Volleyball teams. Wow! What a season. The 7th grade are 1st in the State, and 8th grade girls were just one game away from the same feat but ended up second in state after a tough undefeated Mt. Pulaski squad took the number one place away from them in the championship game.
Sports are about numbers. Everyone wears a number on their jerseys; there can only be a certain number of players actually playing at a given time, and the person with the highest number of points (except in golf) wins.
When you explore the record books, the only thing you see are numbers. And, when you boil it all down, there is really only one number that we want to see next to our team, and that is the number 1. But it may be time to take a new look at sports.
Numbers are very important and we could not have sports without numbers.
When it is all said and done, we have given our best, we need to look past the numbers at the most important aspect of athletic competition- the people... their character.... their drive to give their best.
Many of us were sitting on the edge of our seat waiting for a phone call, or an online update Tuesday night to tell us whether or not the La Harpe/Dallas City Eagles, 8th grade volleyball team was number one in the state.
Many of us got that call around 8:35 p.m. Tuesday evening and we heard the news that our girls had lost in two games, and they (we) did not have a sweep for the state championship in 7th and 8th grade as everyone had hoped for.
But in taking a look at the core of what has taken place in this arena we find that two groups of local girls played for state championship titles on two consecutive Tuesdays. How special is that?
Each team played hard and gave it a good fight right to the end. Before the bus trip with the 8th grade team, Coach Cindy Pollock said, "I am still reeling from the excitement of last week, and now I have to focus on Tuesday.
"I have looked at other teams that have done the same thing as we have and thought, "Wow, what a great job." And then I realize, hey that's us!"
"It hasn't really sunk in yet. I am very proud of all the girls," continued Pollock.
Looking at more than just the numbers such as first in state, takes looking at our priorities. We have to have winners and losers on the court, but some things that are important to us are not always shown on a banner or a trophy after we leave the floor?
We definitely can say there are two groups of winners in our community and in our hearts which comes from giving your best. You may lose a hard-fought contest, but you don't have to be defeated.
The 8th graders may not be feeling very happy by the time you are reading this article while the 7th graders are ecstatic. It must be hard, for the younger team who doesn't want to seem insensitive, but at the same time they want to jump up and down and do the victory dance as state champs.
"I think both teams could be state champs. They have the potential and they definitely have the athletic ability. They are a good group of girls, very athletic, very talented," added Pollock. "I know some records were set, and I am very happy about that, but this is about team and about being unselfish. We had some girls that really knew what they could do and one of those things was being unselfish for the good of the whole."
La Harpe/Dallas City have two teams who have been highly successful over the last two weeks. Two teams that can hold their heads high and be proud of what they have accomplished.
Two schools have some new hardware to show off due to a lot of hard work of these two fine teams.
It is good to see classrooms, lunchrooms and hallways warm and inviting and welcoming where the human side of sports is expressed, regardless of titles or trophies.
The La Harpe/Dallas City communities are very fortunate to have two of the most outstanding sets (no pun intended) of girls in the state of Illinois. No matter their ranking or number, its when we look at the faces-right in the eye, that we realize they are all number one in our hearts.
WAY TO GO LA HARPE DALLAS CITY EAGLES 7TH AND 8TH GRADE VOLLEYBALL! You make us crazy, and yes...so very proud!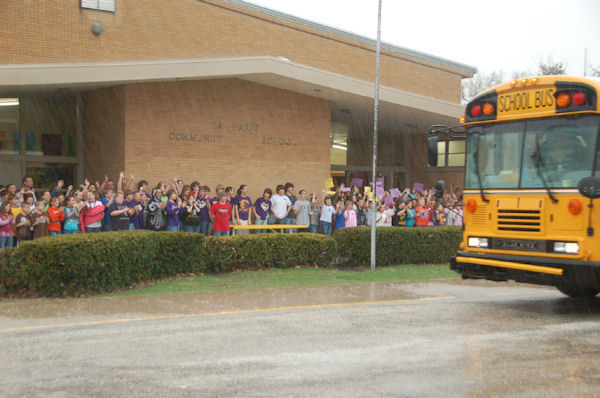 LaHarpe/Dallas City 8th Grade off to State Finals
Even the torrential rains that came on Tuesday could not stop the LaHarpe student body from sending the 8th grade volleyball team off properly to the state finals played in Mt. Pulaski. The Lady Eagles played for the 8th grade class 2A state championship title Tuesday night against a tough undefeated Mt. Pulaski squad. The girls took second in state. More on that game next week!
---