The Hancock-Henderson Quill, Inc.

---
Meet The 2009 West Central Prom Court
By Mrs. Sims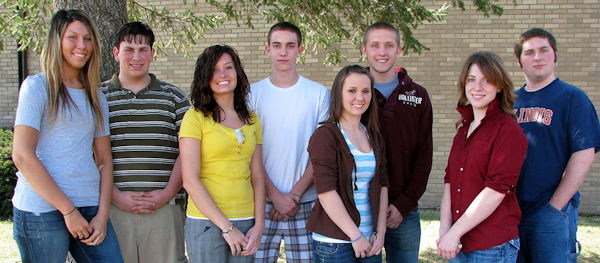 The West Central High School Junior Class proudly announces the candidates for Prom King and Queen.
The following students were selected by their class to be the Prom Court for 2009: Brandie Pullen, Wade O'Neal, Kayla Hinshaw, Dalton Johnson, Mariah Brooks, and. Ryan Mowder, Koleece Spears, and Andrew Davis.
Candidates were asked to tell about themselves in a brief biography. This is what the following juniors have to say about themselves.
Mariah Brooks is the daughter of Doug and Julie Brooks of Stronghurst. Her favorite school memories include the 2008-2009 basketball season, Logan and Dylan's pi–ata and Jesse's song. Her future goals are to go to college and play softball. She hopes to get a degree in Psychology and Sociology.
Koleece Spears is the daughter of Regina and Jim Spears of Rozetta. She enjoys being with her friends and plans to attend the Culinary Institute of America after she graduates from West Central High School.
Brandie Pullen is the daughter of Lori Pullen of Oquawka. Her most positive school memory is having the opportunity of going to school with a group of unique individuals. Brandie's future goals involve going to school for Photography or Broadcast Journalism and this summer, hopefully, competing in the Knoxville Nationals Queen Pageant.
Kayla Hinshaw is the daughter of Mr. Richard Kline and Ms. Nancy Hinshaw of Oquawka. She has enjoyed performing the "Evolution of Dance" for Homecoming, salsa dancing with Logan at W.I.U. and being part of FFA, NHS, WYSE, class officer, track, and volleyball teams. Kayla's future goal is to become a famous lion tamer.
Dalton Johnson is the son of Jamey and Angie McCabe of Biggsville. His favorite high school memories include all the sporting events. Dalton plans on going to college when he graduates from high school.
Wade O'Neal is the son of Rebecca O'Neal and the nephew of Ray O'Neal of Raritan. Wade shared that he has too many positive memories to choose just one. He plans to attend the University of Iowa in Iowa City to study Special Education.
Andrew Davis is the son of Alan and Lisa Davis of Smithshire. His favorite school memory is making friends after the consolidation. After graduating from West Central High School, Andrew plans to join the military.
Ryan Mowder is the son of Joe Mowder and Tammy Mowder of Oquawka. His favorite school memories include every football season and 6th hour Study Hall his sophomore year. Ryan plans to go to college and play football.
As you can tell, the Prom Court for 2009 includes many interesting and talented students. Both Promenade and Prom will be at Memorial Auditorium in Burlington, IA, on Saturday, March 28th.
Promenade will begin at 5:00. Coronation will be at 10:00.
---