The Hancock-Henderson Quill, Inc.

---
Meet Your Neighbor
by Susan Galbraith, Quill Reporter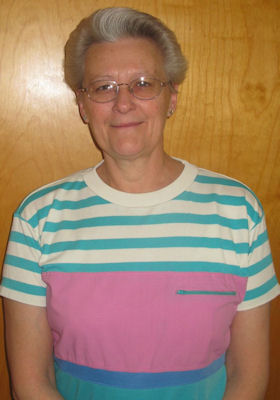 Meet Your Neighbor Candie McDonald, the Office Manager at Country Financial in Stronghurst. In November she will have been employed there 14 years.
She was born in Canton and raised in the Little York area.
Candie graduated from Yorkwood High School in 1975.
She has been married to Mike for 17 years. Mike is employed by Ideal Ready Mix in West Burlington, Iowa.
They have two sons, Michael (29) and engaged to be married to Jenny. Michael is a math teacher at Lewiston High School and Jenny is a surgical nurse at Graham Hospital in Carthage; Aaron, (17) is a junior at United High School.
A daughter, Kimberly, (25) is married to D. J. Damewood and live in Abingdon. Kimberly is a customer service representative at Wal-Mart in Galesburg and D. J. is employed by Wal-Mart as electrician. Kim and D. J. have given Candie a grandson, Leighton, (5) who is pre-schooler.
Candie's mom, Carol, is employed as a cook at United Elementary School and her father, Vernon Dewelker is deceased.
Candie has two sisters, Barb and (Doug) who live in Idaho. Barb and Doug are cross-country truck drivers and a sister, Roberta (Robert) Legendre, who lives in Portland, Oregon with their two children, Jessica (15) and Jordan (14)
Candie and Mike are looking forward to warmer weather when they will utilize their new camper. They look forward to taking their camper and enjoying the fellowship of other campers at Young's Lake, near Kirkwood.
For enjoyment they attend Aaron's ballgames. He plays basketball, football, softball and is now in track.
They also like going to Catfish Bend Casino in Burlington, Iowa.
She says, "One of my favorite things to do is to be at home and entertain family and friends."
---