The Hancock-Henderson Quill, Inc.

---
Jo Jo's Ice Cream Parlor Has New Owner, Old Name
After eight years of running Jo Jo's Korner in Stronghurst, Jo Stull finished her last day Tuesday with a lot of well-wishers coming in, and then turning the business over to new owners Gary and Janet Root of Stronghurst. Janet said she and her husband will be closed Wednesday, Thursday, and Friday but will be ready to reopen Saturday for their first day under the original name her father had given it 12 years ago "Kone Korner."
Although her hours are not set in stone as yet, Janet tentatively plans on opening every day at 11:00 a.m. and closing at 9:00 p.m..
Under negotiation is her Sunday closing time, which she says for now will be 7 p.m.
She plans on keeping a watchful eye out for late ballgames, tournaments, and special events when she will extend her hours to meet the needs of the community.
The Roots purchased what was the late Ray Marshall's home in Stronghurst and will only be two blocks from work.
Jo Stull had been traveling to work from Raritan each day and chose not to open the restaurant on Sundays.
In her eight years, she said they tried keeping it open one winter, but she felt there wasn't enough business plus she liked having one day off.
The Roots will be keeping the restaurant open through harvest, Janet said.
Jo Jo said she will miss the people. They have been so good to her and she appreciated those who stopped in to wish her well in "being lazy" for a while.
She especially enjoyed Jimmy Jacob coming in telling her he was going to miss her and thanking her for her special attention to his favorite ice cream and "sprinkles".
As for the Roots, they said Kone Korner will keep the same great tasting ice cream and sandwiches and add a few cold sandwiches, salads, hot dogs, and steamburgers.
The Roots are planning to add a drive-through in the near future. Janet said her dad is pleased she is purchasing the business he began 12 years ago and is sure to be a great help now and then.
Meanwhile, Jo Jo said she will miss everyone, and she has had a lot of support through her eight years.
I loved the kids. Some would come in with a nickel or a penny short, she laughed,
Now, she will be spending time watching her 8 month old grandson and doing things with their many grandchildren, she says.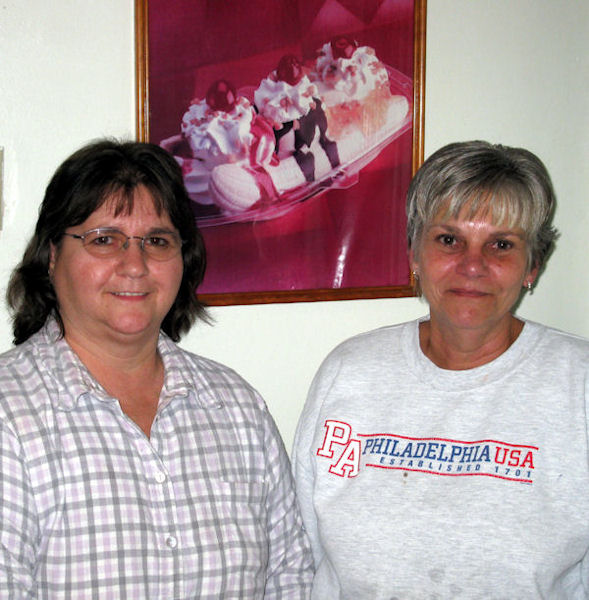 Janet (Cole) Root is ready to take on her new business of Kone Korner, originally started by her father Bob Cole, 12 years ago.
At right, Jo Stull finishes her last working day after eight years of running it as Jo Jo's Korner. It is located in Stronghurst on Main Street beside the Stronghurst Village Hall and almost across from Riverland FS.
---