The Hancock-Henderson Quill, Inc.

---
Spotlight: LH/DC 8th Grade to State; 7th Graders End 1st in State
The LH/DC 8th grade girls volleyball team will advance to state this Saturday, March 21st at Mt. Pulaski. They beat West Prairie in the regional championship game 25-15 and 25-19.
They then advanced to the sectionals on Monday, March 16th to take on Mendon Unity with a hard fought battle in their second game, and went on to win an easier third match. The scores were: 25-15, 20-25, and 25-14.
Girls and their enthusiastic following of fans will travel to Mt. Pulaski this Saturday to take on Lewistown at 11:15 a.m.. The team is coached by Cindy Pollock and Lisa Trout.
Members of the 8th Grade 2009 state bound girls team are: Jessica Beach, Bradee Campbell, Krista Covert, Taylor Dorch, Abbey Douglas, Brittni Finley, Lauren Genck, Marissa Hocker, Holly Jones, Cassandra Logan, Kaitlin Logan, Megan Lord, Holly McDowell, Leah Pence, and Elyce Trout.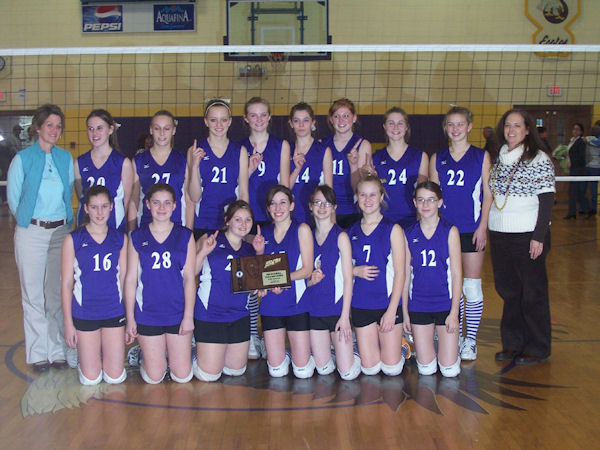 2009 8th Grade LH/DC State Bound Team: Front (L to R) Kaitlin Logan, Marissa Hocker, Krista Covert, Bradee Campbell, Cassandra Logan, Jessica Beach, and Brittni Finley Back (L to R) Coach Cindy Pollock, Megan Lord, Lauren Genck, Taylor Dorch, Leah Pence, Holly McDowell, Abbey Douglas, Holly Jones, and Elyce Trout and Coach Lisa Trout.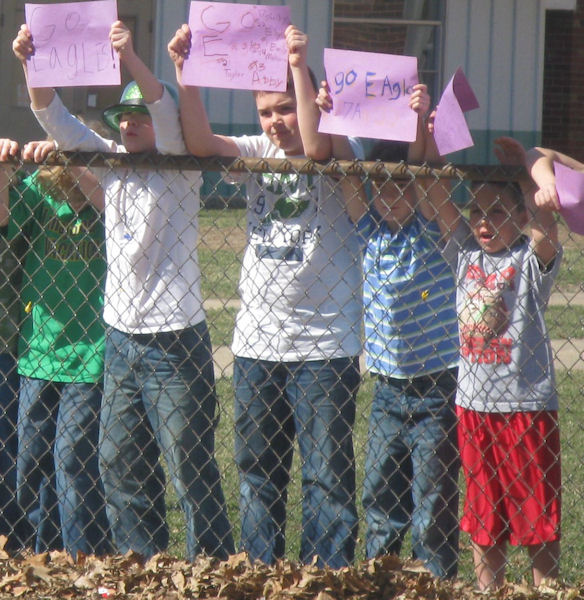 K-8 lined the fence along Main Street La Harpe Tuesday sending Dallas City/La Harpe 7th Grade team off with well-wishes to topple Oakland Lake Crest at Pawnee. Many, decked out in green, were hoping St. Pat might bring luck to their talented girls. The energy might just have been the thing the helped the girls win the state title 25-27; 29-27; 27-25!
---