The Hancock-Henderson Quill, Inc.

---
Meet Your Neighbor
by Susan Galbraith-Quill Reporter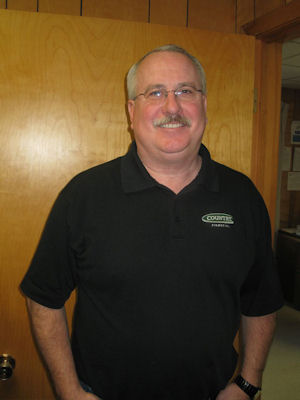 Meet Your Neighbor Mark Colclasure who lives on the edge of Roseville.
Mark is an ISR (Investment Solutions Representative) and insurance agent for Country Financial, formerly Country Companies for about 15 years.
He was born in Monmouth and raised in the Monmouth area.
In 1975 Mark graduated from Warren High School and also attended Carl Sandburg College in Galesburg. He has taken many security and insurance classes to obtain licenses for the business.
Mark will be married 26 years, in April, to Joni (Twomey). They have three children, Alex (24) who is married to Micah Fritz. They live in the Bloomington/Normal area. Alex is a nanny to one year old triplets and Micah is a college student; Emily (22) a senior at Southern Illinois University at Carbondale majoring in Graphic Design; and Joseph, a 7th grader at ICS in Monmouth.
His mother, Mariella is retired and lives in Monmouth and his dad, Charles, is deceased.
He has two brothers, Tom (Yolette) who is retired and lives near Washington, D.C., J.C., is employed at Twomey's and lives at rural Monmouth and a sister, Charlene, (Lucian) that live in Wheatridge Colorado. Charlene and Lucian have two children, Connor and Cori.
In his spare time, of which he has little, he has coached baseball, basketball, little league and this past year coached Joe's soccer team at ICS.
Mark serves on the Monmouth-Roseville School board and is a member of the Stronghurst Booster Club.
He enjoys boating on the Mississippi and each year their family goes to the Ozarks on vacation. Joni's family lives in the area and there are about 50 to 60 family members that get together, rent the whole resort, and just have fun.
---