The Hancock-Henderson Quill, Inc.

---
Signs To Play College Volleyball
West Central Julianna Gillam, Signs To Play College Volleyball at Culver-Stockton, Canton, MO
Senior Julianna Gillam will be driving the same ninety-mile trip her mother took when she left Media to go to college. Julianna is receiving a full four-year full- ride at her mom's alma mater Culver Stockton College in Canton, Missouri.
"I'm excited," Julianna said about playing at college for the Wildcats, "because I thought my volleyball career was over."
Julianna has played volleyball since 5th grade and her mom, Ms. Debbie Gillam, has also been her coach as well as being a teacher at Southern Jr. High and now at West Central.
"Mom didn't push me very much," she said when asked if she had gotten a double dose of coaching at home.
On the contrary, her mom has quietly watched her daughter mature in the sport.
"She's always had passion for Volleyball," her mom said. "You can see as the years went by the passion came out."
Julianna plans on majoring in Occupational Therapy taking courses in biology and psychology and other related subjects to get her degree.
Her goals for college are the same as they were in high school, she says.
As far as volleyball, she said, "I'll try my best - I don't know where I will be there."
Her coach said she will get the experience of six hour bus trips which she responded, "And we thought two hours trips were long."
Culver Stockton's conference includes eleven schools and stretches from Baldwin, Kansas to Graceland, Iowa.
Culver's girls volleyball program started in the 70s with their present coach Rich Meyer in his 34th year of coaching, 27 years in high school at Camp Point and his 4th year at the college level with Culver Stockton.
Coach Meyer said he was attracted to Julianna's profile.
"I look for very good students in academics. I'm a firm believer that you build a good volleyball program with good students and she fits that tremendously.
"She is very strong academically, and we know we have a chance to get her to graduate and be very successful.
"Volleyball is something she is going to be able to do kind of on the side, although she'll have to work very hard on the college level, but she has already proven to have good time-management skills."
"We couldn't ask for a better student athlete than we have here."
In recruiting circles, we look at next level and students with very good academic credentials. When I saw Julianna's GPA (3.993) my eyes lit up.
"I know she'll work hard. She didn't get good grades without working hard.
"She came in to work out at C-S with a boot on due to an injury, and she tried to do more than she should have.
Coach Meyers said that they've put her on the weight program and things like that.
"She's got the tools, and healthy knowledge of the game and the passion to play or she wouldn't have played as long as she has."
The Culver-Stockton Wildcats will play 30-35 games during their season. They have 15 young women on the Junior Varsity and 12 -15 on Varsity.
"I've coached both girls and boys in high school and one thing that I always noticed is that women will strive to achieve more, and they have a passion to play, where a lot of times the guys will not put that extra effort into it where the young women will and its become a bonding."
At Culver, Meyer's says he has tried to recruit the type of people who have a lot of fun playing and like to be together.
Culver Stockton has 825 students, similar to Monmouth before they built their new field house.
Culver, too, has future plans posted for a new field house and improved landscaping for a green campus
Julianna said her GPA of 3.993 reflects only one A- which she received in High School Spanish.
This is West Central's third high profile signing this year which Julianna says reflects on West Central students dedication to sports and to academics.
To earn a full scholarship, Julianna competed with 75 other students for six scholarships/full rides, and was one of the six selected.
She knew it was going to be hard as she interviewed in front of a committee of 3, and wrote an essay and did very well.
Julianna admitted that she never thought until 8th grade about her future or a career when she was exposed to a career class at Southern.
Now she is finding out that all that hard work in academics and sports is paying off with a full-ride worth $90,000.
"We think the merit scholarship is fantastic!" her mom said. "But more importantly it shows how well she can communicate."
She said Julianna has a habit of getting her work done early. She never put homework off until Sunday.
Coach Meyers said that "Most students in Junior High and High School don't realize the value of studying hard until it's too late. When they are in 8th grade and Freshmen, that is when they need to be working.
"We have a lot of people who want to play athletics but their grades are not good enough.
Coach Meyers described Culver Stockton as a personable school about twenty miles from Quincy, Illinois and from Keokuk, Iowa.
"Everyone is there to help students be successful.
"We work for you!
Julianna traveled the college circuit in Iowa, Illinois and Missouri, but never picked a college. "I looked at Monmouth but its kind of close.....but Culver Stockton just 90 miles away - it's close enough-yet far enough," she said. The College was founded in 1853 by members of the Christian Church and overlooks the Mississippi.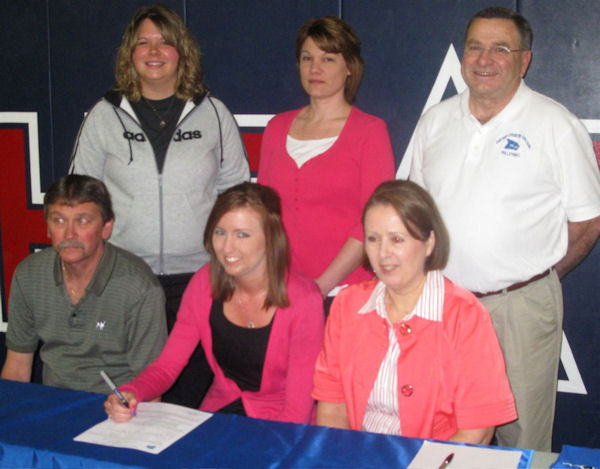 From left father Russell Gillam, daughter Julianna signing letter of intent, mother Debbie Gillam with Coach Carrie Todd, Stacy Edwards, and Culver-Stockton Coach Rich Meyer.
---