The Hancock-Henderson Quill, Inc.

---
Meet Your Neighbor
by Susan Galbraith-Quill Reporter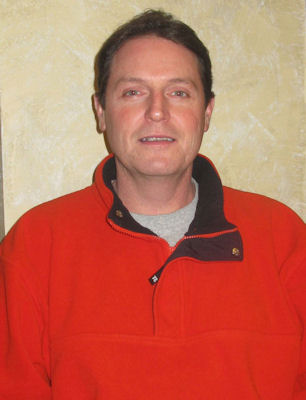 Meet Your Neighbor Kyle Hendrickson
Kyle lives in Stronghurst with his (Raritan) bride, Toni (Boyd), of 23 years.
He was born in Macomb and raised in the Industry area.
In 1984 he graduated from Macomb High School and attended a year at Western Illinois University in Macomb.
He is employed by Wal-Mart and domiciled out of Beaver Dam, Wisconsin. He is at work 5 days and home 3, which he enjoys as he can spend time with Toni.
Before moving to Stronghurst he was employed by Wal-Mart in Little River, Texas, for a year, and then at the Wal-Mart Distribution Center in Mt. Pleasant, Iowa, before being transferred to Beaver Dam, Wisconsin.
Toni is employed by Small World Children's Day Care Center where she is an aide.
They are the parents of three children, Josiah (24). Josiah lives in Moline and is a tattoo artist at The Scorpions Den in Davenport, Holly (21), married to Tyler Robinson and they live in Tacoma, Washington.
Holly takes photos of newborns and Tyler is the youth pastor at the Fellowship Church in Tacoma,
Kylee (20), is a jewelry consultant for Zales Jewelers and lives in Davenport, Iowa.
Kyle's mother Joyce, is retired and his dad Glenn, is deceased.
Kyle has two brothers, Kevin, who lives in Casper, Wyoming and Kurt resides in Moline.
He and Toni are active members of the Stronghurst Christian Church.
Kyle proudly says, "The Pittsburg Steelers is my favorite football team."
Kyle also enjoys bass fishing; catch and release only, and being outside where he does landscaping at their home formerly owned by Bill Towns.
He and Toni are part of a friends group called, "The Barnies". The group are all members of their church, and for the past four years they rent a LARGE cabin (that fits all 5 families which totals about 17 people!) and do a float trip down the Merrimac in Bourbon, Wisconsin. They do lots of fun things with their "Barnie" group.
---