The Hancock-Henderson Quill, Inc.

---
Meet Your Neighbor
by Jenna Clayton, Quill Reporter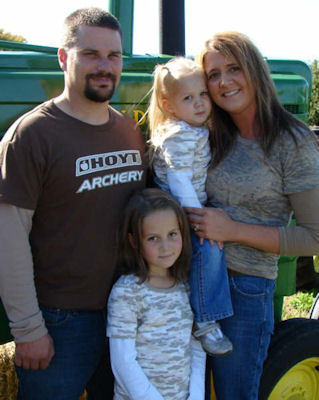 Meet your neighbor Amy Brown.
She was born in Burlington, Iowa and moved to La Harpe when she was in the fifth grade.
She is the daughter of Eric and Cathy Palmer of La Harpe and Jerry Richardson of Burlington, Iowa. Brown has always felt very, very blessed to have such a big and wonderful extended family.
She has one brother, Brad Richardson and one sister, Darcie Palmer.
Brown graduated from La Harpe High School in 1995 and attended a few years at SCC. She is now married to her husband, Brian Brown and has been for eleven years.
She and her husband have been together since their sophomore years in high school making their relationship come to a total of seventeen years. They now have two daughters, Bailey (7), and Laney (3).
Brown is a certified pharmacy technician at Heritage Partners Pharmacy at the Burlington Hospital and has worked there for nine years. She has previously worked at the La Harpe Health Care Clinic, and also CCS Computers in La Harpe and Burlington.
She enjoys scrap-booking, running, walking, spending quality time with family and friends, and riding on her husband's new Harley Davidson motorcycle. She and her family are members of the Union Church.
The most memorable moments in Brown's life are her wedding day and the birth of her daughters.
Brown lives her life with enthusiasm and happiness and says, "cherish yesterday, live today, dream tomorrow."
---