The Hancock-Henderson Quill, Inc.

---
Meet Your Neighbor
by Susan Galbraith, Quill Reporter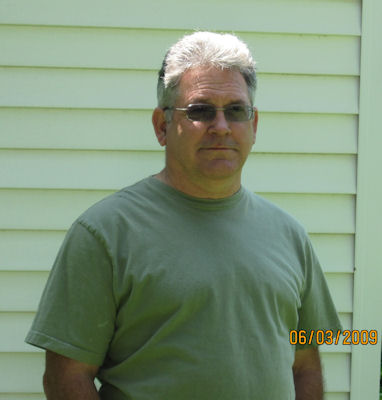 Meet Your Neighbor Dale Allenbaugh who lives in Biggsville with his wife Jamie of 32 years.
He has been employed by Auto Zone in, Monmouth, for the past 6 years and employed in automotive parts at various other dealerships for 29 years.
Dale was born in Higbee, Missouri, and raised in Fayette, Missouri.
In 1969 he graduated from Fayette High School and continued his education at Moberly Junior College for two years before graduating from Kirksville College (now Truman State) with his bachelors in Education/history.
Dale and Jamie are the proud parents of two daughters, Rachel, who lives in Wilkesboro, Pennsylvania, and is a professor of chemistry at Wilkes University and Jenny (Tom) Cane who live in Allen, Texas. Jenny has a law degree, from Southern Methodist University, and is employed at Frito Lay as a legal assistant in the patent department. Hubby, Tom has his own photography studio.
Dale'sĘ parents, Elbert and Juanita Allenbaugh, area are both deceased.
He has two brothers, Robert is retired from Orscheln Farm Supply and lives in Moberly, Missouri, and David (Margie) who live in Fayette, Missouri, and is retired.
Dale and Jamie are members of the Biggsville United Presbyterian Church where he is currently an elder.
He is an avid bicycler. He has a single bike and he and Jamie have a tandem. In 1994 Dale participated in RAGBRAI (Registers Annual Great Bicycle Ride Across Iowa). There are approximately 10,000 bikers that sign up to ride in the event and a couple of thousand join in the procession as they ride through the hills of Iowa..
In 1999 he and Jamie rode their tandem in RAGBRAI. Dale said, "It was quite a memorable ride as each day was approximately 85 miles and temperatures reached 110 degrees on Friday, the day before the ride finished.
In fact, 4,000 folks quit on Friday before the finish on Saturday". He said, "It was so hot the asphalt melted on the tires and we had to stop and scrape the asphalt off the bike so the tires would roll".
He has also participated in TORDB. A bike ride from Davenport to Dubuque and back three times. "It was quite a ride up Chestnut Mountain in Galena".
The last time he rode his Pastor, Rev. Richard Johnson went along. Dale said, "It was 50 degrees and raining!"
There are about 400 that are involved in that ride. (Tour of Mississippi Valley)
He and Jamie keep very busy taking care of five gardens. They volunteer and buy seed to plant one. The community is invited to come and help themselves to the produce. Each year they plant different things. They also plant one for the local food pantry in Gladstone and they share two others with a friend to can and freeze,
Jamie works at Medical Records at Great River Medical Center in West Burlington, Iowa.
Their vacations are spent visiting and enjoying precious time with their daughters.
---