The Hancock-Henderson Quill, Inc.

---
Grays Celebrating Grand Opening In Oquawka
by db Conard, The Quill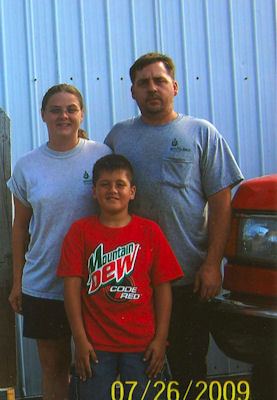 A young family has made a major commitment in business and have come to Oquawka to stay.
John Gray and his wife, Tania, and son, Brenton, have opened Gray"s Auto & Towing and will be celebrating their grand opening this Saturday.
One hundred years ago you would have said that there was a new "Smithy" in town specializing in keeping horses and carriages rolling down the lane. Nothing has really changed except for technology, it's still about keeping the wheels rolling.
John has invested himself and his family in what he believes is a need in the area.
He has over thirteen years of experience in the auto service industry and has certificates to hang on the wall.
In addition, he brings with him more than just a box of tools, he has a determined attitude to succeed with his family at his side.
John believes he can provide services that you can't get anywhere else in town, and for less money.
He intends to specialize in front end, brake, and exhaust work, with a little of everything else.
A major resource that John brings to the community is a 24 hour tow truck, which will have the lettering on the doors by this Saturday.
People are keeping their vehicles much longer these days, and there seems to be a few more holes in the road theses days to shake everything up.
It all comes down to simple principles of maintenance that determine if we can rely on our wheels to get us where we"re going, and safely.
Professional mechanics, automotive repair technicians, or wrench benders in our community are who we rely on to keep us mobile by providing Honest, Quality, Work at a Fair Price, and in a Timely Manner.
On August 1st, John and his family will have a grand opening to announce their new business to the public. It is a terrific new addition to a town that has grown now, by one new business.
Hopefully, this is the beginning of a growing service that will pursue a reputation for the most important ingredient for success, SERVICE!!!
Everyone is invited to the Grays Grand Opening on August 1st, why not stop in and have a look at the shop and meet the people that you might need to call on for help keeping your wheels rolling.
Look for the new sign on the right as you head out to the east end of town on 164. Gray's Auto & Towing.
---