The Hancock-Henderson Quill, Inc.

---
2009 Henderson County Fair Queen, Junior Miss, and Little Miss Pageant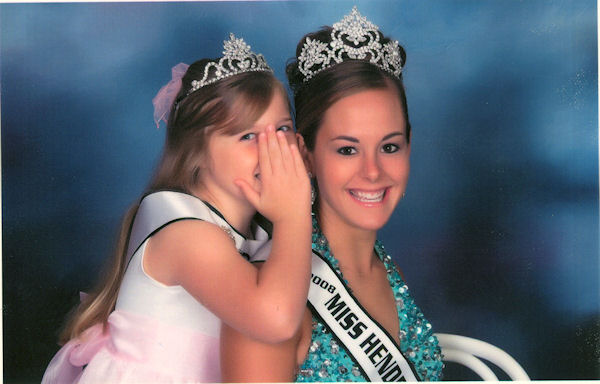 Karyn Furnald, the 2008 Henderson County Fair Little Miss is keeping secrets with Abby Corzatt, the 2008 Henderson County Fair Queen.
They hope that everyone will come celebrate "An Evening in the Orient" as the Henderson County Fair Queen Pageant selects the 2009 Little Miss, Junior Miss and Miss Henderson County Fair Queen.
This year the pageant will be held at the Henderson County Fair grounds in Stronghurst, at 6:30 p.m. on July 19, 2009. If inclement weather occurs the pageant will move to the gym at West Central High School. Tickets may be purchased at the gate.
Four lovely young ladies will compete for the title of the 2009 Henderson County Fair Queen.
Shelby Crawford is the 17 year old daughter of Steve and Laura Crawford of Stronghurst. She will be a senior this year at West Central High School where she has participated in WYSE team, National Honor Society, Student Council, Softball, Bowling, Volleyball and Dance Squad.
Shelby enjoys scrapbooking, playing the piano, watching storms, hanging out with friends and babysitting.
After graduating from West Central High School, Shelby plans to attend Western Illinois University and pursue a career in Forensic Science.
Koleece Gaskill is 17 and resides in Little York with her parents Jim and Regina Spears. Koleece will be a senior this year at West Central High School.
Koleece is a first degree red belt in Tae-Kwon-Do and also enjoys tumbling and volunteering at Holy Family Medical Center in Monmouth. Koleece works at Taco Bell/KFC in Monmouth and loves to read and act in school plays.
After high school graduation she plans to attend college to become a Chef.
Luci Lox is the daughter of Jeff and Lisa Lox of Oquawka, she is 17 years old and will be a senior this year at West Central High School.
Luci participates in school plays, National Honor Society and Student Council. She plays basketball and is also on the track team. She was chosen as the graduation marshal for the class of 2009. Luci is employed at Gator's in Burlington, Iowa and in her spare time likes to read. Her future plans include going to college to study acting.
Brittany Nichols is 19 and her parents are Roxanne Nichols and Allen Hucke of Oquawka and Darrin and Kelly Nichols of Burlington, Iowa. Brittany is a 2008 graduate of West Central High School.
This fall she will be entering her sophomore year at Coe College in Cedar Rapids, Iowa. Brittany is planning to obtain her degree in Sociology and Social Work.
Brittany loves music and received a music scholarship to attend Coe College where she sings with the College Chorale. She is also a member of the Big Brother Big Sister program in Cedar Rapids, Iowa and loves working with children. Brittany is employed at The Henderson County Library in Biggsville and also at Stewart Memorial Library at Coe College.
Brittany's hobbies include singing, shopping, reading, and the Chicago Cubs.
Little Miss contestants are Laurel Beelman, Annamae Brown, Kendra Cole, Abby Dowell, Jayde Henry, Lauren Kane, Emma Keever, Sadie Lenz, Mady Reed, Madelyn Rousonelos, Johanna Sterett, Nevaeh Stimpson, and Aubrey Thompson.
Junior Miss contestants are Khrystyna Anspach, Ashleigh Brown, Caitlyn Cooper, Maddy Cooper, Kamryn Endress, Lacey Harris, Adelaide Norzagaray and Sydney Wiegand.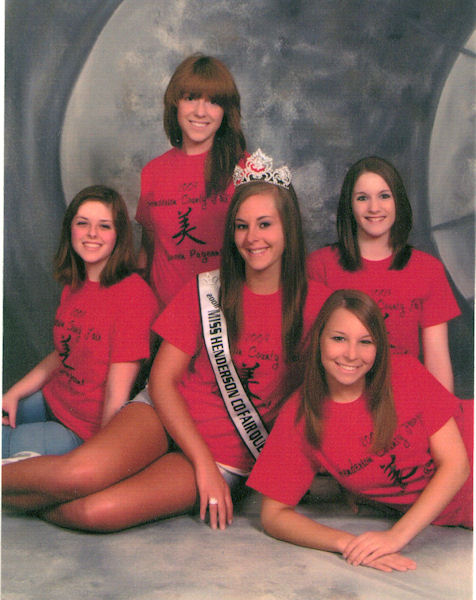 Fair Queen Contestants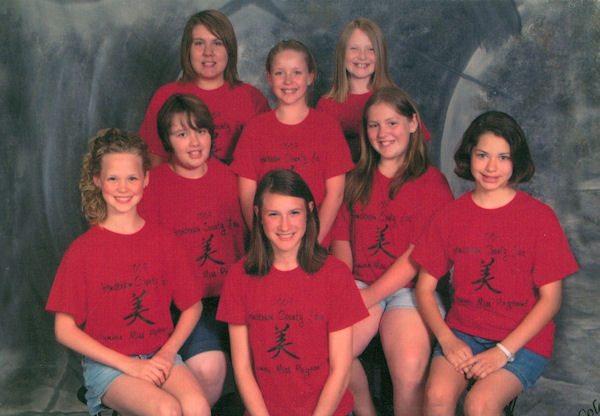 Jr. Miss Contestants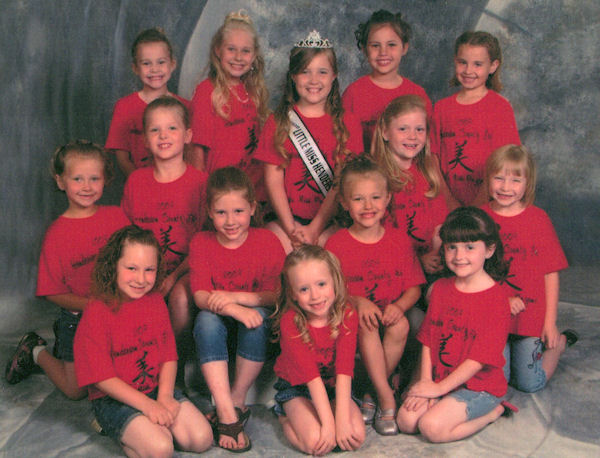 Little Miss Contestants
---