The Hancock-Henderson Quill, Inc.

---
Meet Your Neighbor
by Jenna Clayton, Quill Reporter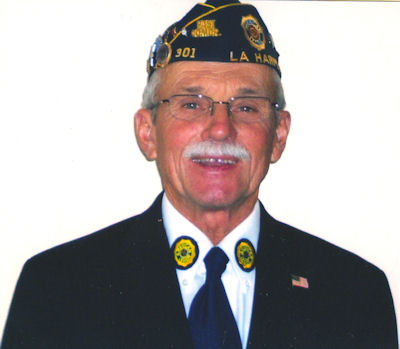 Meet Your Neighbor, Michael Blythe. Mike was born in Macomb, he has lived all his life on a farm near Fountain Green.
He is the son of the late Mildred and Keith Blythe. He has two brothers, Greg and Phil, and one sister, Mary Lou Clugston.
As a boy, he was active in 4-H and FFA. Mike says "Farming is all he ever wanted to do."
He graduated from La Harpe High School in 1961.
Mike was married to his wife, Barbara, in 1974. They have one son, Brian and two daughters, Michele (Brett) Powell, and Leslie (Christian) Boyer. They have 5 grandchildren, Ellie, Carter and Macy Powell and Aidan and Jordyn Boyer.
What are your hobbies, what do you like to do? "When I have time, I love to work in the garden. One of my favorite things is spending time with my grandchildren."
Are you affiliated with any groups or involved in any organizations?
"I belong to the La Harpe American Legion, serving as the chaplain. Serving as a chaplain makes me feel closer to the guys we lost in Vietnam."
Mike helps with many military funerals and he presents the citizenship awards at graduation.
Mike served on the La Harpe School Board for ten years and prior to that he served on the church board at the Fountain Green Presbyterian Church.
Mike was in the Army and served a tour of duty in Vietnam, from which he received the Bronze Star. Mike has farmed all his life, he is in a family corporation with his brothers, Phil and Greg.
One of his most memorable occasions was when his parents, his brothers and his sister, visited him in Hawaii in August of 1968 while he was on an R and R from his tour of duty in Vietnam.
Mike says, "What a contrast, to be in paradise and then go right back into a war zone.
You never take your freedom for granted after going through something like that."
---