The Hancock-Henderson Quill, Inc.

---
Meet Your Neighbor
by Misty Huston, The Quill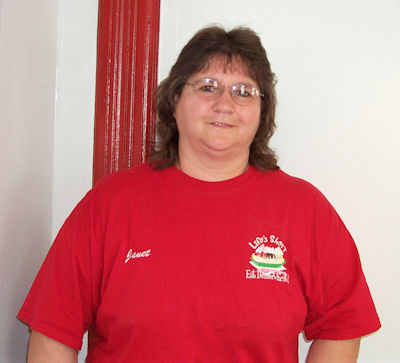 Meet your neighbor, Janet Root, who resides in Stronghurst with her husband, Gary, of 37 years.
They recently moved back to the area, in December of 2008, after being away for 26 years.
When they first returned, they purchased the Ray Marshall home and have made several improvements and updates to it.
Later they purchased the house next door and tore it down to make a larger yard.
Janet and Gary currently own and operate Kone Korner in Stronghurst, where they have worked hard to make many improvements and give the place a new look.
Janet was born in Monmouth and raised in Abingdon until 1970 at which time her and her family moved to Media.
She married Gary in 1972, and lived in Media for three years, before moving to Texas for eight years. They then moved to Northern Illinois until December of 2008 when they moved back to Stronghurst.
Janet is the daughter of Robert Cole and the late Louise Cole.
Janet and Gary are the proud parents and grandparents of daughter, Kimberly (Jeff) Doornbos and grandson, Adam (9) of New Berlin, WI; son, Robert Root and four grandsons, Traven (14), Tyler (12), Taren (10), and Talon (6) all of Stronghurst.
She has three brothers, Steve Cole, Roger (Deb) Cole and Jim Cole.
In her spare time she enjoys spending time with her children and grandchildren, vacationing with Gary, 4 wheeling, swimming, and working with people.
She has immensely enjoyed getting reacquainted with school friends, neighbors and old friends since moving back and opening Kone Korner, where she gets the opportunity to see a lot of them and catch up.
---