The Hancock-Henderson Quill, Inc.

---
TREASURE IN THE HEARTLAND
db Conard, The Quill
A Parade That Sparkles
The 4th of July parade in Oquawka that had been scheduled for ten in the morning, didn't occur until 4 that afternoon.
You may have thought that the turnout would have been poor due to the wet and overcast day, but it was far from it. It was extra impressive to see how many people made the extra effort to support their community and line the parade route.
There was a parade of floats, horses, classic tractors, baseball teams, students, firetrucks, police and rescue vehicles, four wheelers and a three wheel motorcycle.
The list almost makes a patriotic song in itself, and there were even more. A long boat, veterans, along with a tractor trailer truck was included and then Abe Lincoln was there along with Betsy Ross and Uncle Sam. A little humor was added when along came the toilet man and the Monmouth League baseball team pulled by Jones Septic truck.
A real hit was three veterans honored on the Oquawka Methodist Church float, "Duty Honor & Country". Peg Swigart a Korean War era Veteran, played a Trumpet that sang "God Bless America" and other patriotic songs. Peg was assisted by Barb Lumbeck who turned the pages of the music. Barb's husband Huck Lumbeck and Steve Ohler were there as WWII warriors.
Coral Seitz, Jeff Peterson and especially Zack Shinberger seemed to enjoy their parts as a president, flag maker and a patriot.
The National Guard were there to fire the cannon to make the big bang sound of celebration and salute.
There was candy for the kids, and a neat miniature truck, a 20 foot boat from Oquawka Boats draped with a long swagger of American flags and and signs for the River Rats baseball team.
The new boat also served as a float for Dan Wooter (driver of the float), his daughter Andrea and her two friends Bonnie and Chelsea, taking part in their first parade as three community princesses.
The Oquawka 4th of July celebration was one of many other parades that were different in costume and technology, but the same in purpose-the celebration of this nation and its beginning.
The celebration included both people in the parade and those watching them go by. The people who came to watch can be every bit as interesting as the parade itself.
Without exception, everyone was really enthusiastic about the great turnout.
That evening there was a 45 minute long fire works display that was exciting and well done with a great turnout of more than 500 people at the track and field and many more on their porches and in their yards.
When you consider how tight budgets are, its commendable to see that Oquawka's funding for lights and "bangs" has grown from $1200 twelve years ago, to over $7500 this year.
Oquawka can boast of a city board that seems to understand the importance of paying attention to a good attitude and the spirit of patriotism in their community, especially when times get a little hard.
This was a celebration that everyone who took part could be proud of and it's another link that has been forged in the city's proud history of being Amer-I-can.
How about one more bang from the cannon!
(the photos were contributed courtesy of Kim Shimberger who assisted Oquawka Fire Chief Hal Jern in organizing the parade.)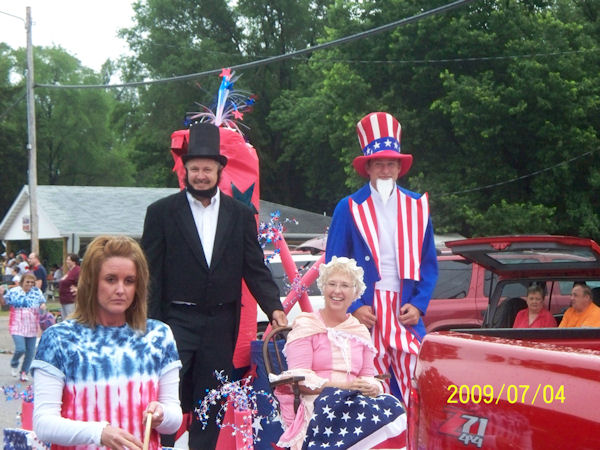 At left, Amy Hamilton hands out candy during Oquawka's annual 4th of July Parade as Abraham Lincoln (Jeff Peterson), Betsy Ross (Coral Seitz), and Uncle Sam (Zack Shinberger) ride alongside in the Toys for Christmas float.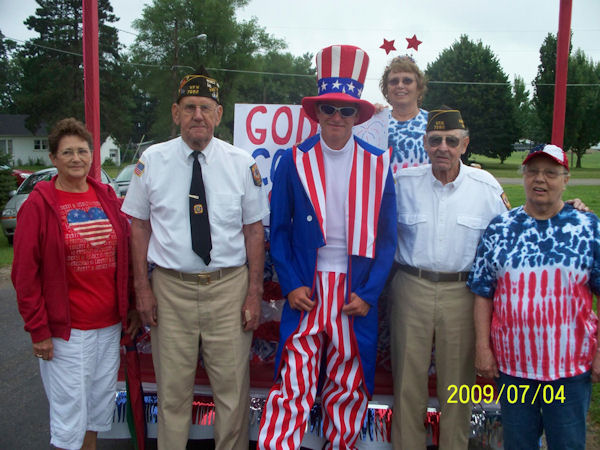 Barb and Veteran Huck Lumbeck, Zack Shinberger (Uncle Sam), Steve Ohler (Veteran), Judy Colley, and Jean Dunn (above)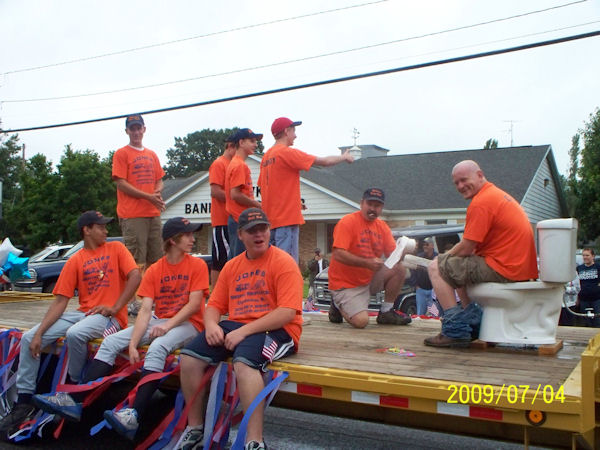 Jones Septic Service in Memory of Steve Jones who died in "08.
---