The Hancock-Henderson Quill, Inc.

---
A Great Tribute With A Bonus
by D.B. Conard - The Quill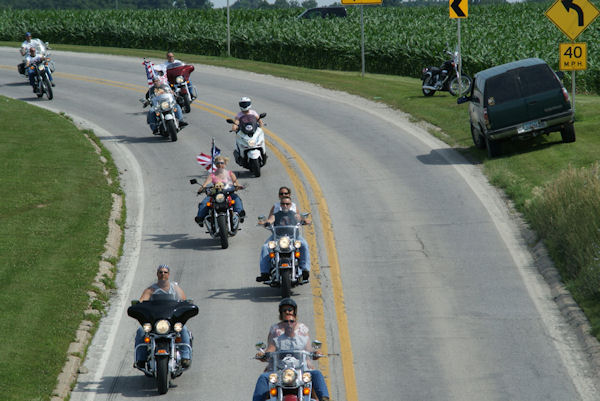 Saturday morning, it was encouraging to see the number of bikers on the road and I was pleased to think that for a first time event, the 1st Annual Joshua Palmer Tribute & Remembrance Ride was already a success.
As I arrived at the Annex, as a veteran I could not help but feel emotionally touched by the parking area completely full of proud Americans and a sea of motorcycles.
The bright sunny day could not have been more perfect for a salute and a ride in memory of Josh Palmer and our fallen soldiers. By one count, over 150 bikes and cars turned out for this very special 1st Annual Joshua Palmer Tribute & Remembrance Ride!
Joshua's dad, Doug Palmer, said there had been no accidents or incidents and everything went off without a hitch. And after the ride through the Illinois countryside and towns, the return to the Annex with a wonderful dinner and auction, capped off a great day.
Doug said he and his wife Carol were so very thankful and could not find the right words to describe how they both were touched by everyone's thoughtfulness and generosity.
He repeatedly praised La Harpe for the support it constantly showed to its veterans, soldiers, and military families.
What a wonderful example the city of La Harpe is as a patriot city.
While I was there, another story tapped me on the shoulder. It was of one of my nurses from the V. A. Clinic in Galesburg. Although we had never met in combat, she and I have walked on the same paths in Asia. Every time I see her I know her as a friend. I am not at privilege to give her name but she was there to ride for her veterans. It was a private thing to her and she did not want it to be about her, but it was her fallen comrades she came to give honor to.
She is a Viet Nam veteran nurse, and I think about what she had been to perhaps thousands of sick and wounded soldiers and what others of her profession had meant in those last moments of a soldier's life such as those we were remembering on this special Remembrance ride.
Because of the caring nature of their jobs, nurses are so very, very, important, yet I believe under appreciated for all the extras they bring to those in their care. When I saw this blonde attitude on a motorcycle, it was just another example of the many people going out of their way to support their country's veterans.
This nurse and others who came Saturday, are the hands and hearts who care for what many of us think of as our treasures, and that is our soldiers.
As a veteran, a heartfelt thanks goes out to one of my caring V.A. nurses and all the other patriots who came and supported this worthwhile event.
And again, our humble thanks to the Palmer family and all families of fallen heroes for their greatest of sacrifices. Our prayers are with you.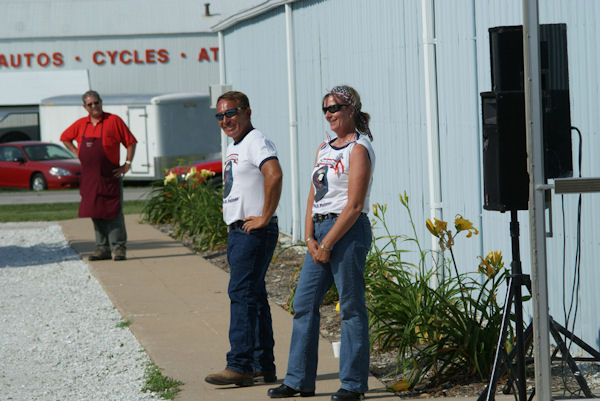 Delbert Kreps, far left, owner of the Annex, looks on during the tribute and remembrance of Doug and Carol Palmer's son Cpl. Joshua Palmer who was killed in the War on Iraq.
---