The Hancock-Henderson Quill, Inc.

---
Hey, There's A Tree On My House!
by D.B. Conard - The Quill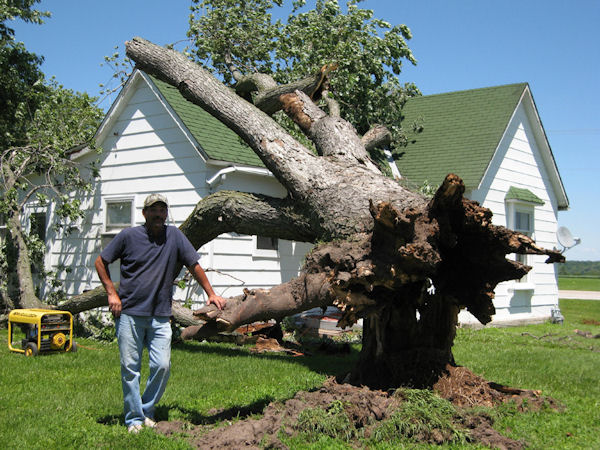 Gary Alber has to be looking over his shoulder and wondering what might be happening next.
Last June, waters from The Big Flood of 2008, literally picked up his house and moved it along with most of the rest of Gulfport, leaving him without a home.
He relocated in a rental home in Lomax in September, safe from the flooding waters of the Mississippi.
But on Saturday evening at about 7 p.m. a strong storm front moved through Lomax, and the high gusting winds left Gary with a large tree laying on top of his house.
A positive shift in Garys luck is the fact that he wasn't home when the tree fell, and the second bit of luck is when the tree landed on the house it was caught by a simple 4x4 that is a part of the front porch.
That little 4x4 looks as if it saved the entire west end of Gary's home from being smashed.
Instead, there is amazingly little damage considering the size of the tree. The art will be in carefully removing the tree without it shifting off its little support.
With a generator Gary is still with electricity and the power company was to reconnect the house soon.
By next month all that will be left from the adventure will be a stump out front and an interesting story about what a simple 4x4 timber in the right place can do to save a home.
Other damage was felt in Lomax as well. Lightning fried Gary's neighbor Rick and Lori Bohnenkamp's computer and did extensive damage throughout their home.
---