The Hancock-Henderson Quill, Inc.

---
Meet Your Neighbor
by Misty Huston/The Quill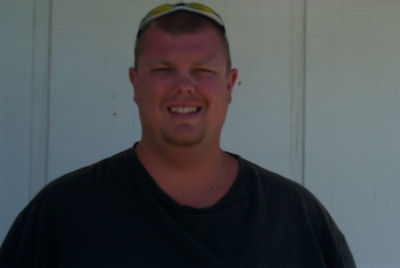 Meet your neighbor, Michael McCollum, who resides in rural Media.
Michael is currently laid off from Union Pacific Railroad. Since he has a little more free time on his hands now, he has taken the opportunity to serve his community by volunteering as an Auxiliary Deputy for Henderson County Sheriff's office.
He also keeps rather busy mowing and doing tasks for his family and friends.
Michael was born in Burlington, Iowa and raised in rural Media. He has lived in Henderson County almost his whole life with the exception of the 3 years he and his family lived in Kansas City, Missouri and the 1 1/2 years he lived in Omaha, Nebraska for his job with the railroad.
He graduated from Southern High School in 2000 and continued his education at Carl Sandburg College, through the Southeastern Community College campus, earning his Associates in Art Degree.
Interestingly, he shared with me that his dad, Mike was in the very first graduating class from Southern and his sister Mallory, was in the last graduating class from Southern before they consolidated with Union.
He is the son of Mike and Michele McCollum. He has three younger sisters, Megan, Mallory and Morgan.
In his spare time he enjoys fishing, hunting, shooting, reloading his own ammo, 4-wheeling, and spending time with family and friends.
Michael is always looking for a new adventure to keep him from getting bored. Just ask him about falling out of the boat or cutting down trees to retrieve the kite. He could entertain you for hours with some of his stories.
Some of his favorite memories are of grilling out with his family, which they do quite often, no matter what the season.
One of his favorite family traditions is every September when his Uncle Pete, Aunt Deb, cousin Matt and girlfriend Taryn, come to visit for a week from Florida. He says it is a week of nothing but fishing, shooting, grilling out, spending time together and enjoying each others company.
---