The Hancock-Henderson Quill, Inc.

---
Attends Inauguration In D.C.
At least I had shoes. - by Megan Hart, For the Quill
It was 4 a.m., I had already been up and walking for an hour, and I was rapidly losing patience with the roadblocks the police had set up to control the Inauguration Day crowds. Then I saw the Washington Monument, shining like a lighthouse guiding my friends and I toward the National Mall, and I reminded myself that as cold and tired as I was, my snowboots would have been a luxury to the soldiers at Valley Forge.
Nothing like gangrenous limbs to put your difficulties into perspective.
I was there as part of a conference for college students. My three friends and I thought we had paid for tickets to stand on Capitol Hill, but when we didn't get them we decided we would still get our piece of history, even if it meant getting up before 3 a.m. to walk two hours across the city in hopes of finding a space.
As we passed the Washington Monument I realized how fortunate we are. We live in a country where power is conferred by ballots rather than bullets, and for all the inconveniences they imposed, the police made no effort to stop anyone from assembling peacefully to watch our government in action.
I've heard it said that Americans don't care about our government. All I can say to that is, some started lining up not long after dusk the night before to watch, not a concert or a football game, but a government ceremony.
I couldn't quite bring myself to stand out that long, but as the hours before dawn seemed to stretch unnaturally and the four of us piled on top of each other for warmth, the only thing that kept me from going back to my hotel for a few delicious hours of sleep was that this was part of something bigger.
Whatever your political leanings may be, it's inspiring to see people come together in hope.
Even though the stock market was having a terrible day, for that one morning it was as if people had taken a vacation from worrying about foreclosures and 401ks.
Some were walking around passing out little American flags, and most of us took a trip back to elementary school when Bruce Springsteen's version of "This Land Is Your Land" started playing on the jumbo screens.
I spent the past summer studying in the United Kingdom and Ireland, and though I knew we weren't exactly popular overseas, I was astonished not only by the general consensus among young Britons that Americans are ignorant, obnoxious people who have never done anything right (apparently World War II is forgotten), but also by my American classmates' willingness to go along with bashing their country.
Former President Bill Clinton once said "There is nothing wrong with America that cannot be cured by what is right with America."
Despite some of his poor decisions, I think in that case he knew exactly what he was talking about.
I don't know whether President Obama can deliver on his promises.
I don't even know if he's made the right promises. But I do know that, for now at least, people are proud to stand up, wave their flags and tell the whole world that we won't apologize for being American.
It's about time.
Megan Hart is the daughter of Mr. and Mrs. Max Hart from Pennsylvania, and the granddaughter of Hazel Hart of Stronghurst and is a junior at Michigan State University majoring in Journalism.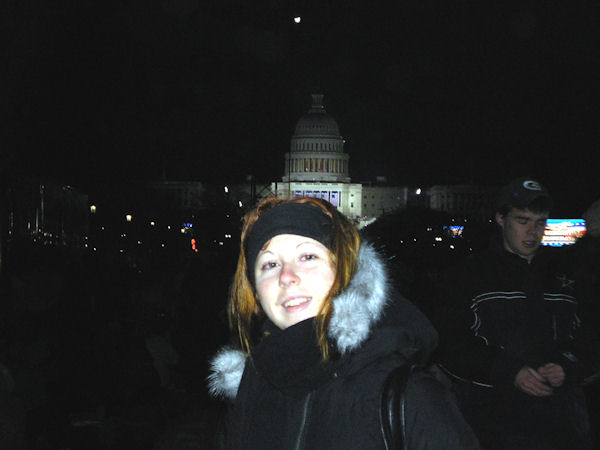 Megan Hart, granddaughter of Hazel Hart in front of the Capitol Building at 5:15 a.m. Tuesday, Jan. 20 for the inauguration of 44th president Barack Obama.
---