The Hancock-Henderson Quill, Inc.

---
Gail Mudd Ending His Route As Biggsville's Rural Mail Carrier After 30 Years
by Susan Galbraith, Quill Reporter
Gail Mudd will be retiring, as rural mail carrier, of the Biggsville and Kirkwood routes on Saturday, January 31, after 30 years of delivering mail.
In all that time, Gail has only had 4 subs to help out; that is of course, not counting his faithful wife, Donna.
"During some of those cold winter days, I would ride along," said Donna. "Yes, ride along, not drive, as I was the one to put my arm into those cold mailboxes, and deliver the mail!"
"She was a great help," Gail said.
Gail started delivering mail in the fall of 1979.
"I  had an old car which added to the stress of being a "new  man on the block", or on the route"!
"The first couple of years the winters were so bad that I got stuck about twice a week, but I could always count on someone pulling me out."
A particular good friend, Kevin Shauman, enjoyed not necessarily pulling him out, but always took a photo of his victims as well. And to top it off, Gail's photo was posted in Gibbs Service Station for the community to view.
Gail recalls on one hot August day a little girl had hoped to scare him by leaving  a frog in her mailbox. By the time he got to her mailbox the frog was about dead.
"Heat stroke, maybe?" he laughed. 
Gail has also had many birds that like to live in the newspaper carrier boxes, alongside his mail boxes. They would make nests, and fly out as he hand-delivered the mail into the mailboxes.
"That can keep your heart rate up!"
Gail said that one of the great privileges of his 30 years as a rural carrier was watching the children grow up. "In  fact, I am now delivering to the 3rd generation!"
He also enjoys being outside and being able to see the wonders of God's creation.
Another benefit was when their children, Christina and James, were in school he and wife Donna were able to go to all their school functions. They only missed one of their son's James, games. Quite a record!
In those 30 years Donna said, "He has never been in a serious accident," which she is thankful.
Gail has enjoyed working at the Biggsville Post Office with Shirley Kane for 30 years and also with Annette Manthei at the Kirkwood Post Office for the last 8 years.
Gail is a lifelong resident of Biggsville. He was born in Burlington, Iowa, and raised in the village of Biggsville.
Besides being a rural mail carrier for 30 years, he has farmed his uncle and aunt's farm, Dale and Verna Rawhouser, for 26 years.
"I now plan to have more time to enjoy farming,"
He graduated form Union High School in 1961, and joined the Navy that same year. He was stationed in San Diego, California, on three different destroyers. The USS Mullany, the USS Shields and the USS Tingey. His classification was machine Mate 2nd class.
He has been married to his bride Donna, for 36 years. To that union were born two children, Christina Thompson who lives at rural Biggsville and James (Toni) Mudd of Galesburg.
Christina is a medical data information specialist at OSF in Monmouth and James is an RN at the Henry C. Hill Correctional Facility in Galesburg. James' wife Toni, is employed by Dr. Bixby Eye Care Clinic in Peoria.
Gail and Donna also are the proud grandparents of five lovely grandchildren. Christina has three children, Darion (14), Michale (11) and Connor (4).
Christina's children attend West Central School District. James and Toni are the parents of Chandler (10) and Reagan (7). They are students at Galesburg public schools.
Like his father, James also served his country in the military. He served 6 years in the Marines Corp. in San Diego, California, and 4 years in the Army serving 18 months in Iraq.
Gail's parents are deceased. He has one sister, Marilyn (Don) Simmons who resides in Biggsville.
In his spare time, Gail does woodworking, stained glass and hopes to catch up on his golf game. Of course, the most important thing is that he and Donna can spend more precious time with their grandchildren.
As a recipient of this rural carriers deliveries, I can only say, "Gail, will be greatly missed, not only by me and my husband, but by our grandchildren who love to run to get the mail, or take the 4-wheeler, and meet Gail at the mailbox.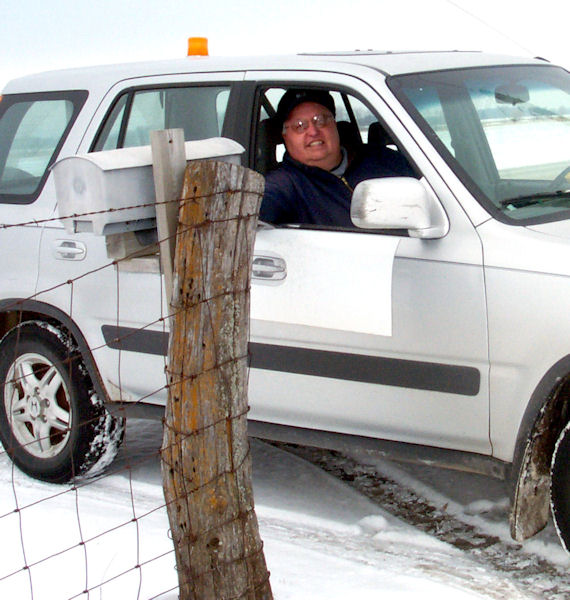 Gail Mudd of Biggsville, finishing up his last week as rural mail carrier after thirty years of serving the U.S. postal Dept. and his rural customers.
---