The Hancock-Henderson Quill, Inc.

---
Galesburg eye doctor, Pete Kehoe, President of the nation's most influential eye association, American Optometric Association (AOA)
Not often in our jobs, are we personally able to witness lives saved due to actions we have taken, but a Galesburg doctor has already impacted our nation in such a way.
Dr. Peter H. Kehoe and his wife Melissa, enjoyed a luncheon-fundraiser for influential people to meet the President of the United States, put on by the Republican National Committee.
Kehoe went last year for his first time, and was the highest officer who could attend from the American Optometric Association.
The luncheon was held at a mansion in Georgetown outside Washington D.C. with 70 guests in attendance, including a variety of farmers, builders, real estate developers, and even candidates running for Congress.
President Bush opened with a 15 minute talk about his job as President. There were no media, so President Bush was very open, Dr. Kehoe said.
President Bush was very candid with the small group about his faith, and about the economy.
He told them his job was not about being President or the office, or about being popular, but it was about doing what's right for America.
Dr. Kehoe said, "I think his quote fits every situation for me. My job is about protecting my patients, and as President of the Association, doing what is right for both the patients of our optometrists and for member doctors.
"It is about the role of the office - not the person - and about doing what is right."
Kehoe said Bush was very candid when answering questions on gas prices, ethanol, housing, immigration, and health care.
"Alternative fuel is the key," he told them, "and we must consume less oil.
A man from Florida said the housing market is being blamed on the builders.
President Bush shared that they monitor the housing inventory all the time around the country.
Michigan and Ohio has been flat for several years, he said, and the great run up in housing prices didn't happen in the Midwest.
There is no blame on anybody, it is just cyclical. It goes up and down in areas, but it is going up as a whole.
Kehoe said tougher issues were ethanol and immigration.
In health care - we all need better access and at a better value. President Bush is a proponent of electronic health records and E-prescribing to improve quality.
There were a couple of lighter moments, Kehoe said, when he asked the President to comment on either health care or baseball and the President shared that he had planned a news conference the next day but cancelled it since it was likely that Roger Clemens would dominate the media that day - which it did.
Kehoe and his wife Melissa were able to visit with President Bush and Laura and have a 20 second picture session where he asked, "How can your office raise the level of awareness of children's vision issues in the country?"
Pete Kehoe earned his way to the Presidency of the AOA, the nation's largest and most influential eye professional association.
Kehoe has been called "the grandfather of the InfantSEE¨ program" since its inception.
This program allows any child in America in its first year of life, a one- time no cost comprehensive eye exam. Former President, Jimmy Carter was the honorary spokesperson for the InfantSEE¨ program that was launched in 2005 on the Today Show. President Carter, and the nearly 8,000 AOA optometrists participating in the program feel strongly that every child should have every opportunity for success and that in our country, healthy vision is paramount to a good start in life. The InfantSEE¨ program has been responsible for saving sight and saving lives of hundreds of children since the 2005 launch.
Kehoe explains, "Your eyes are the window to your body"... high blood pressure, diabetes, MS, etc.
He explained that regular eye exams are more important than most people think. The AOA recommends a comprehensive eye exam at least every year or two throughout a persons life depending on whether they wear glasses or contacts, their age and other health conditions such as diabetes.
His ascension to President of the AOA began in west central Illlinois. "We all go through our local society as officers, working and passing legislation to provide comprehensive care to our patients.
Optometry is arguably the fastest expanding health profession in the last 40 years.
"Every state has it's own scope of practice," and as the needs of our patients have changed, so has our education and every state has expanded the care that optometrists are able to deliver he said.
"In 1994 Illinois optometrists were allowed to treat eye diseases and became an integral part of a patient's health care team.
Optometry has always been able to diagnose eye disease, but with the ability to treat many eye diseases, patients are able to receive their care from their family optometrist and that saves time and dollars.
Kehoe first joined West Central Illinois Optometric Society which covers an area between Kewanee to Macomb about 30 miles.
It is part of the Illinois Optometric Association which is part of AOA.
Dr. Kehoe, a Galesburg native, began his practice in 1984 and in 1993 became an officer in the IOA and ultimately became president.
During optometry school the state announced the opening of Hill Correctional Center in Galesburg. So during his 4th year he did a rotation or internship with a prison, and in 1986 he became the prison optometrist in Galesburg. His company now has contracts at 24 IL Dept. of Corrections facilities with 7 optometrists that subcontract through his company.
Dr. Kehoe also has partners in 3 practices in Galva, Peoria and Galesburg. He and his partner, Dr. Brian Plattner had hoped to re-open an optometric practice in Rushville in 2008, but has struggled to recruit an optometrist to the area.
His proudest accomplishment, however is the "Gracie story" which developed from the InfantSEE¨ program.
In 2005 on The Today Show, President Jimmy Carter, and Dr. Scott Jens from Wisconsin (the programs chair) were discussing the InfantSEE¨ launch and a young mother to be, 5 months pregnant, saw the show.
She told herself, "When my baby is born I need to get InfantSEE¨ eye exam for my baby." She made a mental note of it and even told her mother, who, like most Americans' didn't see the need Kehoe said, in May of 2006, little Gracie was 7 months old and the mother went on the InfantSEE¨ web site and found a participating optometrist in Chandler, AZ to get Gracie's InfantSEE¨ exam.
The assessment found that Gracie had a rare, yet most common form of cancer in children- Retinoblastoma - ultimately she had to have the eye removed but she is cancer free.
Stacey, her mom, left a voice mail for saving her daughter's life... "I would like to thank someone in person," - she said. Only one in 20,000 children get retinoblastoma - but what if it is your child or grandchild?" Kehoe explains.
"We have found others... InfantSEE¨ was not created just to detect retinoblastoma but to help every child get the best visual start possible.... "Amblyopia - often called lazy eye - is a disease/condition that could literally be eliminated by the InfantSEE¨ program.
It's a very treatable condition if caught early enough, but too often, kids come into our office at 7 and 8 years old and we have moms crying in the chair because they did not realize that their child was only seeing out of one eye.
"Amblyopia is much more difficult to treat, later, and there are risk factors that are detectable as early as 6 months of age."
"We had to create a paradigm shift for society to understand the importance of every child receiving an eye exam in their first year of life so we offer the service at no cost, regardless of insurance.
The InfantSEE¨ exam is complimentary to what their pediatricians do at well-baby visits.
"Too many times I have seen it in 8-10 year olds, and the problem could be eliminated in this country if every child had the early exam.
"If you detect risk factors, in the infant, you would want to see them more regularly."
Kehoe continues to help his colleagues in Illinois and in 2008 a new law passed in Illinois where every child must have an eye exam- the 4th state to do so - before they start public school - usually prior to kindergarten.
"This law is a good start in helping children be successful in school. It is estimated that 80% of learning is through vision."
Dr. Kehoe said as President of the AOA, he will continue to work to ensure that programs, like InfantSEE¨ continue and to keep an eye on health care discussions in Washington D.C. and Springfield and in every state capitol.
As President of AOA, Kehoe has also met some interesting people such as Derek Lee, 1st baseman with the Chicago Cubs, who has a foundation as his daughter has an eye condition.
He met Jane Seymour - an actress who's mother had macular degeneration, and the most inspiring for Dr. Kehoe - Tom Sullivan, a blind actor -and a strong activist for increasing awareness of the importance a lifetime of healthy eye sight.
He is an inspirational speaker to eye care professionals and the general public.
"Although he is blind, he skis, golfs, and is a great athlete.
President Carter is the national spokesperson for "InfantSee" because two of his grandchildren had amblyopia.
President Carter tells folks that your Optometrist is the professional who could make a difference.
And Dr. Kehoe agrees. "It is our mission every day."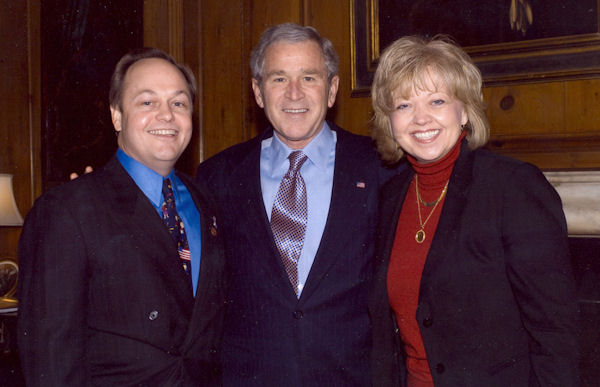 In 2008, Galesburg eye doctor became President of the nation's largest and most influential eye association, Dr. Peter G. Kehoe, American Optometric Association (AOA.) with his wife Melissa Kehoe at a small dinner meeting with President George W. Bush in Kiawah Island, South Carolina.
---