The Hancock-Henderson Quill, Inc.

---
Meet Your Neighbor
by Susan Galbraith, The Quill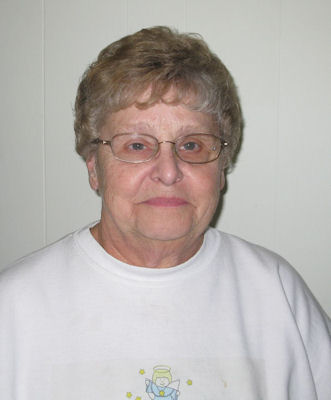 Meet Your Neighbor Jean Crotts who lives in Stronghurst with her hubby, Tom, of 20 years.
She has been employed by the Burlington Care Center, for 19 years, as an LPN.
Jean was born and raised in the Kewanee area and graduated from Kewanee High School in 1960.
In 1982 she received her nursing degree and in 1990 an associate of arts degree from Southeastern Community College in West Burlington, Iowa.
In 1973 she received her EMT certificate and is active with the MST Fire Department.
Hubby, Tom, was employed by Cessford Construction Company for 14 years and is a MST Fire Department volunteer and treasurer.
Jean has five children:
David Lee who lives in Burlington, Iowa, and is employed by KPI,
Diana Dugan who lives in Stronghurst and is employed at the Henderson County Extension Office,
Danuel McKune lives in Oquawka and is employed at Lowes,
Donald McKune who lives in Burlington, IA, employed at the Army Ammunition Plant in Middletown, IA, and
Thomas Crotts an auto mechanic living in Tucson, Arizona.
She has seven grandchildren: Jacqueline (Mark) McGraw of Ft. Madison, Iowa, Justin Strange of Stronghurst, Shafer and Danyel McKune of Oquawka, Shelby McKune of Fairfield, Iowa, and David and Shay Ann Lee of Houston, Texas. Also twin great-granddaughters, Kailee and McKenna McGraw.
Jean is involved in many, many, activities and gives many hours of volunteer time to help others, something she believes strongly in.
She and Tom play Mr. and Mrs. Santa each Christmas at the Burlington Care Center, and the Small World Pre-School in Stronghurst.
This is Jean's 29th year volunteering, with security, at Steamboat Days in Burlington, Iowa, and the 4th year as a cook there.
She has also volunteered the last 10 years, in March, for the Snowbowl in the Burlington Auditorium; the last 5 years as a volunteer at the Tri-State Rodeo in Fort Madison, Iowa; 3 years at the Midwest Old Threshers in Mt. Pleasant, Iowa; Great River Hospice House in West Burlington, Iowa, and the Lee County Hospice.
Every holiday she and Tom decorate their home. This year they had a beautiful Christmas display in their front yard.
This past summer she had 65 entries in the Henderson County State Fair in Stronghurst winning more ribbons than could fill a wall.
Jean loves to do crafts and one of her inventions is making wreaths for holidays out of lights, garland and clothes hangers.
She enjoys plants and working in her vegetable and flower garden.
Jean is the proud owner and driver of a Suzuki motorcycle .
She and Tom love to camp and their favorite places are Lake Storey in Galesburg, the scenic drive, and camping at Old Threshers.
In February she and Tom visit family and friends in Texas for a couple of weeks and enjoy the warm weather.
Jean also takes care of her animal friends; Bonnie her 5 year old chocolate lab and her 17 year old cats, Patches and Snowball.
She is also an active member of the Stronghurst Methodist Church and can be seen volunteering at funeral dinners, and just about anything she can help at.
Even though Jean keeps "extra" busy she always has time for her family and friends and helping others.
During the holidays, in December, she gets excited just telling about the special surprise things she does to help folks.
Around Christmas, she was seen handing out candy canes at Wal-Mart dressed as Mrs. Claus as she stopped to do some last minute shopping. Many were stopping her asking where Mr. Claus was."
Jean is surely full of life and enthusiasm and love for her neighbors.
What a lady!
---