The Hancock-Henderson Quill, Inc.

---
Meet Your Neighbor
by Susan Galbraith-Quill Reporter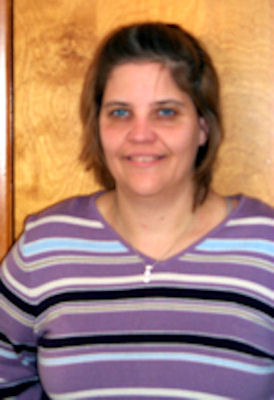 Meet Your Neighbor Rhonda Turner of Stronghurst.
Rhonda is in her first year of teaching in the Dallas City School District, as a Reading Specialist for K-5th grades.
She was born in Geneseo and raised in Cambridge.
In 1990, Rhonda graduated from Cambridge High School and went on to further her education by attending Black Hawk College East in Kewanee, Spoon River College in Macomb where she received her associates degree, Carl Sandburg Community College in Galesburg, Black Hawk West in Moline, and then received her BS degree from Western Illinois University in Macomb.
She and her hubby, Gene, will celebrate their 18th anniversary on March 23. Gene is Pastor at the Stronghurst and Carman United Methodist Churches.
They have three children, Janelle (17) a junior at West Central High School, Kimberly (16) a sophomore at West Central High School and Erick (11) in the 6th grade at West Central Middle School.
Her parents are Ron and Theresa Koenigs. Ron is retired from Case IH after 33 1/3 years employment and her mom stays active working in crafts, quilting and plants.
Rhonda has three siblings. One sister, Nancy (Al) Evans that live in Aurora; two brothers, Dan (Deanna) Koenigs that live in Cisco and Jim (Kris) Koenigs in Kewanee.
She has several nieces and nephews that she is very proud of. Nancy and Al have a son, David (22) and a daughter Anne (18); Dan and Deanna have two sons, Nathan (8) and Aaron (6); Jim and Kris have one daughter, Molly (16) and three sons, P. J. (14), Matthew (8), and Josh (5).
Her very favorite thing to do is watch the Chicago Bears. She was filled with excitement as she was able to attend her first Bears game, at Soldiers Field in Chicago last October, with her sister, who doesn't even like football!
In fact, Rhonda even has a bathroom decorated with her Bears memorabilia.
Rhonda's favorite love is teaching. She also does some reading in her spare time and loves to bake with her speciality being pies.
She has a favorite pie recipe, from Gene's grandma, hanging on her bulletin board. Even though she knows the recipe by heart, she always checks the recipe as it is in grandma's writing and brings back special memories of her making pies for them.
Gene added, "Rhonda is a tremendous support as she helps with the bulletin, calls, and does errands for me." He is blessed with a great Pastor's wife.
---