The Hancock-Henderson Quill, Inc.

---
Retired Globetrotter "Curley Boo" Coming To Speak to Students
By Dessa Rodeffer, Quill Publisher/Owner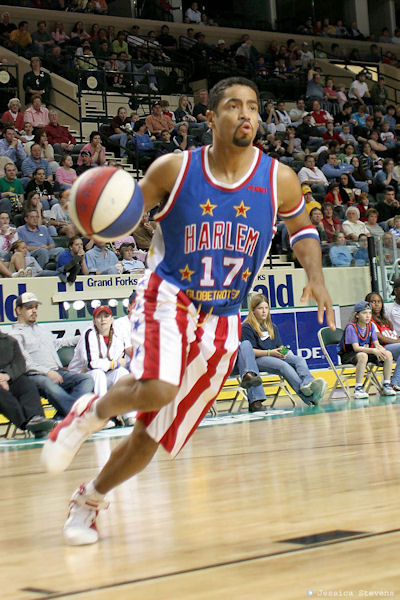 The basketball player known as one of the fastest dribblers, (8.8 times a second) will be coming to West Central School and La Harpe School next week.
Students and guests who attend are fortunate to be hearing a motivational talk plus some entertainment from "Curley Boo" Johnson, a world famous Harlem Globetrotter who retired two years ago.
The event which is to be at the schools on Friday, February 27th, is happening thanks to major funding from Big River Resources, LLC (ethanol plant-Ray Defenbaugh CEO), and the Twomey Foundation (John & Mary Twomey, Melba Twomey, Vic Twomey, Charles and Norma Twomey Kirkpatrick Directors), who are both paying for Curley's speaker's fee, and thanks to several generous local *businesses who are funding the overnight accommodations, extra expenses, a private reception and dinner at Cerar's Barnstormers Restaurant for Curley Boo plus $500 for each school's speaker fund to help with future speakers at their schools.
The public is invited to come into the school during the presentation which will be at 10:00 a.m. February 27 at La Harpe School and at 1:30 p.m. at West Central High School.
Curley Boo played 18 seasons with the Globetrotters from 1988-2006 performing his unbelievable style on all seven continents and 81 countries.
He inherited the role of "dribbling wizard" made famous by Marques Haynes and "Curly" Neal and became known as "The Worlds Greatest Dribbler".
He was a member of the team that participated in the enshrinement ceremony when the Globetrotters were inducted into the Naismith Basketball Hall of Fame in 2002.
He was also part of the group that visited Pope John Paul II on November 29, 2000 in Rome.
As a Globetrotter Curley also has had the privilege of meeting Mother Theresa and South African President Nelson Mandella.
A native of Peoria, he starred at Loras College in Dubuque, Iowa where he became the first athlete to have his jersey retired.
Curley was on student senate and the student representative to the college board of trustees as well as homecoming king. Curley did not just dribble through Dubuque he earned a degree in marketing at Loras.
Curley Boo was nicknamed "Boo" by his father who was the first Black player to play for Bradley University and led them to a National title in 1957.
Curley has been inducted into the Peoria Sports Hall of Fame, Peoria High Hall of Fame, African American Hall of Fame, and had the ultimate honor of having a street named after him in Peoria on October 13,2007
Since retirement from the Globetrotters, Curley has been on the speaking circuit receiving standing ovations nationally.
He has his own basketball academy and camp and trains some of the top names in the NBA.
Recently Curley portrayed a sports agent in the upcoming motion picture "Midrange" and met with producer and directors this Monday where he will be featured in the motion picture "Sweetwater" set for production this month.
Nationally recognized sports journalist Chet Coppock is writing a book about Curley's amazing life story.
Curley has been involved in many humanitarian causes such as the Boys and Girls Club, YMCA, Family Rescue, Big Brother Big Sister, The United Way, Special Olympics, Make A Wish Foundation and the list goes on.
Curley has been featured on ABC's Wide World of Sports, ESPN Classics, Larry King Live, Regis and Kathy Lee, The Tonight Show with Jay Leno, Montell Williams, and many others.
The event is being planned by The Quill newspapers with generous support from the following sponsors which will help add $500 to both schools Speakers Funds for future speakers.
$1000 DONATION
Big River Resources, LLC
CEO Ray Defenbaugh
Twomey Foundation
John & Mary Twomey
Victor Twomey, Melba Twomey, Charles & Norma Twomey Kirkpatrick.
OTHER SPONSORS:
First State Bank of IL
LaHarpe Speaker's Donation (Ray Defenbaugh-speaker)
First State Bank of Illinois
Midwest Bank
Raritan State Bank
Bank of Stronghurst
Biggsville Bank
Crop Production
Riverland FS
Brent Family Pharmacy
Doran Ins. & Services
Kleine Equipment Inc.
Bi-Co. Insurance
Stanton/Ingersoll Ins.
Banks & Beals
LaHarpe Telephone Co.
LaHarpe Auto Body
Security Savings
Oak Lane Nursing & Rehab
Dr. Robert Pogue
Styletique/Qi-The Spa
Bygones & Buds
Cerar's Barnstormer
Hancock-Henderson Quill
---