The Hancock-Henderson Quill, Inc.

---
Meet Your Neighbor
by Jenna Clayton, Quill Reporter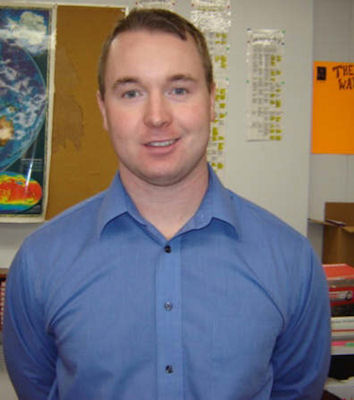 Pat Raftis: Meet your neighbor Pat Raftis born and raised in Macomb, the son of Tom and Sue Raftis.
He was raised by his Irish-American parents, a strict father and a mother who spoiled him.
He graduated from Macomb High School in 2001 and from Monmouth College in 2005.
Raftis is currently the High School Social Studies Teacher at Illini West High School. He teaches classes such as Geography, Civics/government, U.S. History, and Sociology.
He describes his position as "molding the minds of American youngsters." He enjoys what he does and puts his heart into his job.
His past jobs include science teacher, hog farmer, and paper boy. He previously belonged to the History Club at Monmouth College.
Some of Raftis's hobbies are reading, coaching football, scholastic bowl, and anything involving trivia knowledge such as Trivial Pursuit, Jeopardy, or trivia contests.
Raftis recalls moments in his life that he is fond of such as winning the State Championship with Illini West as an Assistant Coach and also visiting Dublin, Ireland and Munich, Germany.
Raftis's students know his teaching style and personality as easy-going, but also know he means business. He takes his job seriously and also throws in his sense of humor that keeps his students attention. He is known to say catch-phrases and quotes, such as "get after it", and "hate is a strong word".
Raftis is definitely a favorite teacher of many students at Illini West.
---