The Hancock-Henderson Quill, Inc.

---
Meet My Grandchildren
by Susan Galbraith, Quill Reporter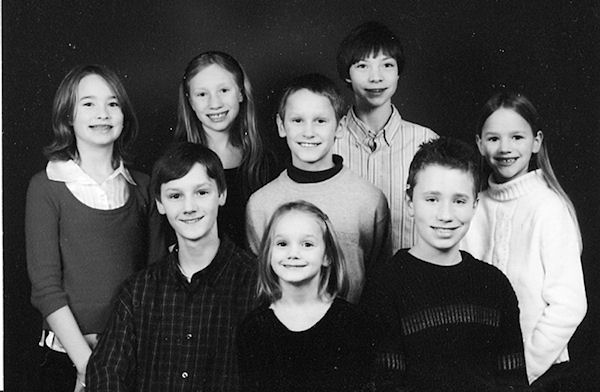 Since this is the Christmas edition and I did the love of my life last year, I decided I would write about my grandchildren this year, and I know you are all so excited to hear about them!
Our oldest son, Greg and wife Michele, are the parents of Jacob (15 ) and Lauren (will be 13 in January) that live in Wildwood, Missouri. Jacob is a 5th generation trombone player and a sophomore at Eureka High School. He loves to play paintball with his dad and come to grandpa's and bow hunt. His sister, Lauren, is a 7th grader at Wildwood Middle School and is in show choir. She loves to sing and dance and loves performing.
Our middle son, Todd, and wife Paula, are the parents of Joshua (13) and Jenna (10) and live in Manteno. Josh and Jenna are home schooled. Joshua is quite a marksman. He and his daddy enjoy turkey hunting together in the spring with grandpa. Jenna is quite adept at playing the piano. In fact she is playing the piano her daddy played when he was young. She also loves to sew and is quite good.
Our youngest son, Scot, and wife Melissa, are the parents of Steven, (15), Caleb (13), Jessica (11) and Abigail (8), who live in Howards Grove, Wisconsin. Their children are also home schooled. Steven is an excellent marksman and those animals better be on the lookout for him! Brother Caleb, is quite a creator and builds some of neatest things. Jessica is a horse lover. Even though she doesn't have one she takes riding lessons from one of their friends and loves every minute. In fact for her birthday her parents took her to Milwaukee to see the Lipizzaner horses, Abigail is quite a mover and a shaker. She loves to talk and her daddy says there is never much oxygen left in a room when Abby walks out.
I asked each of them a question that I could share their answers this holiday season. My question was - "What do you enjoy most about Christmas?" Their answers are:
Jacob - "I love family getting together and snow on Christmas."
Lauren - "Getting together with family."
Joshua - "We have the privilege of being able to get together with family and friends to celebrate the birth of Jesus."
Jenna - "I love Christmas because of the gift of giving, and because of Jesus' birth."
Steven - "Family getting together to remember good memories, and makiing new ones."
Caleb - "I love how Christmas makes me feel, and getting together with family."
Jessica - "Getting together, and being a family."
Abigail - "The Christmas program at church, and playing in the snow."
We have always called our grandchildren our "8 angels" since they were born and we continue to use that phrase regardless of their age. They don't even seem to mind.
Of course, there is much more I could say, but I will hold that for another time.
When Steven and I count our blessings we are thankful for those "8 angels" that fill our hearts with love and joy.
During this holiday season don't forget to thank God for the blessings you have and for the birth of his son, Jesus.
Merry Christmas!
---