The Hancock-Henderson Quill, Inc.

---
Meet Your Neighbor
by: Susan Galbraith, Quill Reporter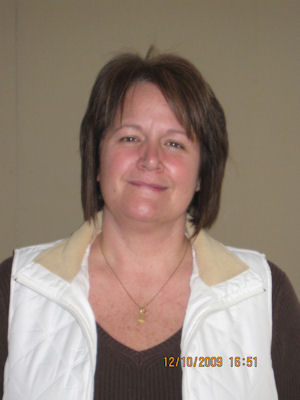 Meet Your Neighbor Kim Shinberger of Oquawka.
Kim is the owner of Shear Elegance in Oquawka.
She purchased Shear Elegance 3 years ago and before that was an employee for 8 years. Previously she was employed by the Iowa Army Ammunition Plant in Middletown, Iowa, for 2 years.
She was born in Burlington, Iowa, and raised in Myrtle Beach, South Carolina.
In 1989 Kim graduated from Union High School. She then attended cosmetology school at Chris Logan Beauty College in Myrtle Beach where she received her cosmetology certificate in 1990.
She is married to hubby, Todd, of 18 years. Todd is employed at Alexander Lumber Company in Stronghurst.
They have two sons, Zach (16) a junior at West Central High School and Caleb, (12) a 7th grader at West Central Middle School.
Her parents are Kenneth and Carolyn Decker of Myrtle Beach, South Carolina.
She has three sisters, Patti Decker of Alabama, Tammie (Gene) Miller of Conway, South Carolina, Stacie (Matt) Sapochak of Bluffton, South Carolina.
Sister Patti has four children, R.J. Marybeth, William and Bree, Tammie and husband, Gene, have two sons, John and Nick and Stacie and Matt have Sarah, Caroline and Matthew.
Kim's family are members of the First United Methodist Church in Oquawka.
She enjoys attending their sons sports. Zach plays football and basketball and Caleb plays football, baseball and basketball. She also loves scrap booking and spending time with family and friends.
As a family they also enjoy 34 Raceways in the summer. Zach, since turning 16, has started helping out in the pits.
She cherishes the time she is able to spend with family in Myrtle Beach, South Carolina. Kim is able to spend time with her family a couple of times a year, as it is difficult for her to be away from her business.
Last Mother's Day she surprised her mom with a visit and her mom was so surprised, she at first thought she was Stacie as she and Stacie look so much alike.
When asked what she liked about being a beautician she replied, "I love the people, my location right here on Main Street, the new trends in hairstyles, new color techniques and in fact I like it all."
---