The Hancock-Henderson Quill, Inc.

---
Heat Battles The Red Storm In Season Opener
by db Conard, The Quill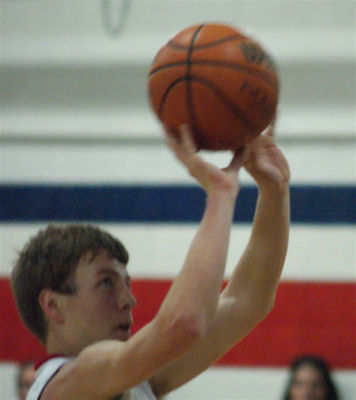 As you walk through the front doors of West Central School the typical sounds from a game in the gym are the first thing that touch your ears. I could hear the sound of feet and basket balls slapping the floor while cheerleaders chanted to the stands of fans.
The gym wasn't full to overflowing, but had a respectable turnout for both teams on a long day of Saturday games.
The United Girls had played early at 1:00 p.m. and were over by 4:00 p.m. after winning the Fresh-Soph game and losing the Varsity to a tough United girls team.
The Boys Varsity play on the court was a balanced game with the points seesawing in great team play. The game was won at the free throw line by United. West Central lost their rhythm late in the 4th period after gaining an hard fought lead, but then ended down by 8 points.
Coaches and referees' got along for the most part with just a few disagreements. Sometimes it was as interesting at the game to watch the expressions and reactions of Coach Charlie Carver.
There was nothing about him that didn't seem totally focused on the court and his team. You could see his frustration sometimes, but never anger, the lack of which is always noticeable.
One aspect of the game that night was appreciating the kind of day the Athletic Director / Coach Jay Blender was experiencing. He had in a long day for a Saturday, his usual day off, starting in the gym about 11:30 that morning . Long day, long week, not an easy job, but I can imagine rewarding watching the end result of his teams efforts.
If only more people realized that sporting events at the local schools were a unique way to spend a night out watching great games with glimpses of extraordinary play and talent all just down the road.
This week the Red Storm was able to press down the Varisty Heat, but who knows about next week, and who might get burned.
---